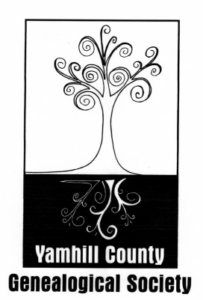 Welcome to the Yamhill County Genealogical Society's website 
Discover your family's history
Our objective is to instruct members in research through monthly educational meetings, to created an interest in genealogical and historical material, and to publish genealogical and historical records.
Until further notice, we are meeting on Zoom.  (no meeting in July or August). Meetings start at 9:30 am with social time.  The program starts at 10:00 am followed by a short business meeting. 
Visitors are welcome!
Click the link below to download a copy of our monthly meeting topics and speakers from last year.   We are in the process of finalizing this year's calendar.  
Our donation funded services
The YCGS Quarterly Timber Trails is provided with your annual membership with the YCGS.
We would request that you consider receiving your Quarterly via email!
TIMBER TRAILS TITLE
AUTHOR
VOL.
NO.
Annual Report of School District # 7, Yamhill Co. Ore. Terr. February, 1856
1
1
Boundary Changes… [list of petitioners for change of eastern edge of Yamhill County, 1860]
1
1
Early History of Grand Island
Stoller, Ruth
1
1
Fendall, Charles E. [part 1]
1
1
Hill, Marilyn Jean, pedigree chart
Craig, Marilyn (Hill)
1
1
Hopewell Cemetery List, A-B
1
1
Wilson [Malissa, 1877 newspaper article]
The Appeal, Monroe Co., Paris, Missouri
1
1
Whitworth, Alberta P. Bowder, pedigree chart
Whitworth, Alberta P.
1
1
Yamhill County, 1847 tax list [includes additional list of corrected spellings]
1
1
Roster of Members [July 1980]
Yamhill County Genealogical Society
1
1
Anderson, Anna L. Little, pedigree chart
Anderson, anna L.
1
2
Fendall, Charles E. [part 2, conclusion]
1
2
Fire That Swept Sheridan, The [1913]
Haugen, Olive
1
2
Hopewell Cemetery List, C-F
1
2
Oregon Register, The, La Fayette, Oregon Jan. 11, 1889 [snippets, names: Hadley, Parrott, Everest, Vincent, Gubser, Wiley, Mark, Woods]
1
2
Oregon Register, The, La Fayette, Oregon, Jan. 18, 1889 [snippets, names: Smith, Finley, Gilbert, Smith, Newman]
1
2
Report of School District #7 for 1859 [transcript]
1
2
Schmidt, Dianne Ellen, pedigree chart
Hurley, Dianne E.
1
2
Shipler, Lillie Leona, pedigree chart
Walker, Lillie L.
1
2
Haugen, Olive Mark, pedigree chart
Haugen, Olive Mark
1
3
Hopewell Cemetery List, G-L
1
3
Index to Edwin Waddell Scrapbook [A-H, mostly obituaries]
Edwin Waddell Scrapbook
1
3
Necrology: Irwin, Verda M.
1
3
News Register Jan. 11, 1889 [snippet, names: Baxter, Daniels]
1
3
Personal Diary of Benjamin Wesley Booher [1900-1901 Iowa to Alaska, list of names included]
Hurley, Dianne E., owner of diary
1
3
Simmons, John A. Carlton Pioneer [part 1]
1
3
The Oregon Register, Jan. 25, 1889 [snippet, names: Braly, Warren]
1
3
Student List, Yamhill County School District #7, 1866
1
3
Oregon Register, Feb. 1, 1889 [snippet: Vanorsday, Patterson, Sax]
Oregon Register 1889, La Fayette, OR
1
3
Hopewell Cemetery List, L-N
1
4
Index to Edwin Waddell Scrapbook [H-M, mostly obituaries]
Edwin Waddell Scrapbook
1
4
Index to Timber Trails Vol. 1, 1980-81 [surnames]
Yamhill County Genealogical Society
1
4
Oregon Register, The, February 1, 1889 [snippets, names: Rogers, Wallace, Putman, Rhodes, Scott, Sax, Warren, Tooney, Bolnoski]
1
4
Visit With Homer Cecil Parrett, A
Kilgore, Ione
1
4
Warmington, Julia Jean, pedigree chart
Jones, Julia Jean
1
4
Oregon Register, Jan. 18, 1889 [snippet: Scroggins, Cooper, Edwards]
Oregon Register 1889, La Fayette, OR
1
4
Athey, Robert L. [transcript of handwritten note, dated April 24, 1947 (or 49) and transcript of unknown newspaper, names: Athey, Atkins]
Roberts, Diana, Woodburn, OR,
possession
2
1
Athey, William Family
2
1
Couple to Observe 50th Year Sunday, Mr. and Mrs. James H. Miles [newspaper transcript, names: Miles, Bullock, Sohn, Gholsen]
Roberts, Diana, Woodburn, OR,
possession
2
1
Hopewell [no date transcript of newspaper, list of guests of McKinleys, names: Brenneman, Bronson, Miles, Worth, Sohn, Whitesel, Reed, Bullock, Sanders, Beir, Smith, Mull]
Roberts, Diana, Woodburn, OR,
possession
2
1
Hopewell Cemetery List, N-R
2
1
Hopewell Resident Likely Candidate for Pioneer Queen, May 28, 1959 [newspaper transcript, names: Wilson, Gay, Wright]
Roberts, Diana, Woodburn, OR,
possession
2
1
Index to Edwin Waddell Scrapbook, M-R
Edwin Waddell Scrapbook
2
1
McCoy Minute Men Ready for Action Since December 9, Dallas, Oregon, April 16, 1942 [transcript of newspaper, names: Finn]
Roberts, Diana, Woodburn, OR,
her possession
2
1
Moe, Thelma obituary [newspaper transcript]
Roberts, Diana, Woodburn, OR,
her possession
2
1
Simmons, John A. Carlton Pioneer [part 2, conclusion]
2
1
Steel Ferry Sees Service [newspaper transcript, Wheatland ferry, names Daniel Matheny and some decendents, no date]
Roberts, Diana, Woodburn, OR,
her possession
2
1
Handley, A Family History - 1900's; Yamhill - Carlton Review, 9 Jan. 1975,
Robinson, Sarah Handley
2
2
Amity Standard, 15 July 1954 [transcript, names: Shaw, Campbell, LaFollette, Noffsinger, Beusekamp, Fuqua]
2
2
Charter Membes of Amity Chapter of No. 87 Order of the Eastern Star - 1906
Christopher, Delphia, submitter
2
2
Death of a Pioneer - William Caldwell [abstract from News Register, 17 Dec. 1904
Anderson, Anna, abstractor
2
2
Gruner/Greiner, A Family Reunion
Greiner, Eleanor
2
2
Hopewell Cemetery List S-S
2
2
Index to Edwin Waddell Scrapbook, R-S
Edwin Waddell Scrapbook
2
2
Marriages from Pleasant Hill Methodist Church Record, Oct. 4, 1855-October 11, 1860
2
2
McMinnville News Vol. 1 No. 2, Feb. 20, 1901 [names: Morris, Beller, Brown]
McMinnville News
2
2
Odell, Dr. George W. obituary, Dec. 30, 1921
Dayton Tribune
2
2
Old Auction Sale Related [transcript of newspaper clipping from Danville, Indiana, 1849, J.L. Moss, Versiles, Kentucky, leaving for Oregon]
Lucas, Virginia
2
2
Signers of 1882 Diary of Varion McKinley (She later md. Albert Athey)
Roberts, Diana, Woodburn, OR,
her possession
2
2
Souvenir - School District Nos. 52-53; Lone Star School, Polk and Yamhill Counties, Oregon 1901-02 [list of officers, teacher, pupils]
2
2
Necrology: Lawson, Bernice C.
2
2
130 Gather at Annual 30-year Club Picnic in Amity Park [Vol. 5, 15 July 1954]
Amity Standard
2
3
Advertisers in McMinnville News, 1901 [Vol. 1, No. 2, 20 Feb 1901, names: Brower, Funk, Collard, Triplet, Henershott, Gilliam, Morgan, Richards, Wing, Hansen, Wardle]
2
3
Aged Indian Passes, 1935: John Wachino
2
3
Amity Popgun, Vol. 2, No. 27, 21 July 1893, Ballston News [names: Dickey, Ball, Lady, Syron]
Amity Popgun
2
3
Butler School, Dist. #25, Butler, Oregon, May, 1904 [list of teacher, directors, clerk, pupils]
2
3
Cherry Grove, Booth Pioneer Cemetery [12 Aug 1981, names: Booth, Lee, Beckham]
Forest Grove News-Times
2
3
County Commissioners, February Term [list of names from The McMinnville News,
Vol. 1, No. 2, 20 Feb 1901]
McMinnville News
2
3
Down, Bible Pages [copyright 1862] [names: Down, Kickapoo, Schofield, Reed, Yambert]
2
3
Early Oregon Pioneers: Robert L. Booth [obit, ODLC reference]
Myrtle Wooden Scrapbook
2
3
Homer Parrett Remembers [additional statements]
Kilgore, Ione
2
3
Hopewell Cemetery List, S-Z
2
3
Index to Edwin Waddell Scrapbook, S-Y
Edwin Waddell Scrapbook
2
3
Jesse Faulconer Laid to Rest Wednesday, 1934 [obit, ODLC reference]
2
3
McMinnville News Vol. 1 No. 2, Feb. 20, 1901 [snippet names: Holts, Thomas, Vay]
McMinnville News
2
3
McMinnville News Vol. 1 No. 2, Feb. 20, 1901 [snippet names: burn, McCain, Star Mills, Nelson]
McMinnville News
2
3
McMinnville News Vol. 1 No. 2, Feb. 20, 1901 [snippet names: Columbus School, Thomas, Vay]
McMinnville News
2
3
McMinnville News Vol. 1 No. 2, Feb. 20, 1901 [snippet names: James, Sunderland, Walker, Rowland]
McMinnville News
2
3
Mrs. Katie Johns, 72, Pioneer Descendant, Dies Sunday, May 3, 1959 [obit, ODLC references]
2
3
Newby, Bible Pages [names: Newby, McGary, Clark]
Clark, Earl H., Ridgecrest, CA
2
3
Oregon Register, Lafayette, Oregon, Friday, January 18, 1889 [snippet names:
Myers, Morrison, Reiskster, Selph, Field, Raleigh, Van Buskirk, Fendall, Mendenhall, McKinley
2
3
Pioneer History Recalled at White Cloud Reunion [school]
Telephone Register, 17 May 1934
2
3
Sohn Family Reunion [transcript of newspaper clipping, 2 Sep 1978]
Roberts, Diana, Woodburn, OR,
possession
2
3
Amity Popgun, November 17, 1893 [snippet names: Putman, Schltz]
Amity Popgun
2
4
Amity Standard, Amity, Oregon, July 15, 1954 [names: Sanders, Lewis, Fuqua,
Maurer, Simpson, Lembkie, Stephens, Torbet, Abraham]
Amity Standard
2
4
Blanchard, Clarence, Neighbor of the Week [25 Nov 1972 News Register]
News Register
2
4
Changes in Street Names in McMinnville, Oregon, April 3, 1928 City Ordinance #1749 and 1765
2
4
Churches [list of pastors: Alley, Crader, Seaton, Mathiasen]
2
4
Davis, Nancy E. obituary [15 July 1954]
Amity Standard
2
4
Fairview School List, April 10, 1891 [list of pupils]
2
4
Fendall, McKinley, district supervisors appointed [11 Feb 1889]
Oregon Register 1889
2
4
Grand Ronde Indian Reservation Now Memory [part 1]
Myrtle Wooden Scrapbook
2
4
Hopewell Cemetery List [extract of dates, ages on some death certificates]
Stoller, Ruth
2
4
Index for Timber Trails Vol. 2: July 1981-July 1982 [surnames]
Yamhill County Genealogical Society
2
4
Lawson, Bernice Converse ancestor chart
Lawson, Bernice Converse
2
4
Many Visitors at Whiteson, Whiteson, 20 September 1951 [several names listed]
Telephone Register, 20 Sept 1951
2
4
Marriage: Smith-Archiball [Vol. 1, No. 2, 20 Feb 1901]
McMinnville News
2
4
Military History Yamhill County, Oregon [written in 1899]
Cooper, J.C.
2
4
Military List of Yamhill Co., Ore. 1867 [part 1, A-F]
2
4
Murton, C.C. [baby born] [Vol. 1 No. 2, 20 Feb 1901]
McMinnville News
2
4
Old Timers' Relate History of Grave in Willamina Area: Grave Set Atop Hill -1953-
[William R. Burford]
News Register
2
4
Oregon Born Pioneer Recalls Early Statehood Days [Mary McKinney Jones]
Creesy, Charlett Jean
2
4
Popgun, a newspaper, Friday November 17, 1893 [names: Harrison, Taylor, Morgan, Guinn]
Popgun, Amity, Oregon
2
4
Real Estate transfer [newspaper snippet, names: McKinley, Merchant]
News Reporter, 19 Mar 1905
2
4
Several Attend Stork Shower, Grand Island, 25 May 1950 [Mrs. James Worthington]
Telephone Register,25 May 1950
2
4
Sheridan [newspaper snippets, names: McKinley, McCaslin, Merritt]
Telephone Register, 6 Jan 1911
2
4
Side by Side [family of Sarah Alice (Cushing) and Melvin Oliphant] [part 1]
Oliphant, Sarah Alice
2
4
Some Notes on Daniel Matheny
2
4
Sunday Family Dinner, Dayton, 11 August 1949 [relatives of Luther Burbank]
Telephone Register 11 August 1949
2
4
1906 - 1956 Golden Anniversary, Sheridan Chapter #89, Order of Eastern Star [list of matrons]
3
1
Abbett, Rev. J. T. Name Quilt, 1892 [list of names on quilt]
3
1
Adkins, John and Julia Walker [obituary information]
Roberts, Diana, Woodburn, OR,
possession
3
1
Gaudette, Ione Marie Ascending Genealogy (The Stradonitz method)
Kilgore, Ione
3
1
Cave Family Vitals, Yamhill County, Oregon
3
1
Family Surnames listed in 1850 Oregon Territorial Census under Yamhill Co.
Youngberg, Elsie, compiler
3
1
Grand Ronde Indian Reservation Now Memory [part 2]
Myrtle Wooden Scrapbook
3
1
Hopewell Cemetery List [extract of dates on death certificates] [last of series]
Stoller, Ruth
3
1
Military List of Yamhill Co., Ore. 1867 [part 2, F-L]
3
1
Pioneer Aaron Payne was one of the sturdy preachers who shaped a movement
3
1
Pleasant Dale Aloha Club [organized 1910, list of members, a little history]
Campbell, Ivie & Murphy, Valera
3
1
Telephone Register, a newspaper, McMinnville, Oregon, Thurs. Jan. 6, 1898 [snippets, names:
Lewis, Rhodes, Ramsey, Fenton, Baker, Calbreath, Goucher, Young, Smith, Wright, Grissen, Clark, Blair, Bogue, Allenbaugh, Fenton, Jensen]
3
1
Telephone Register, a newspaper, Thursday, January 6, 1898 [list of advertized letters, snippet: Henry]
3
1
What A Day It Was When the Threashers Came! [transcript of news article]
Myrtle Wooden Scrapbook
3
1
McDonald, James Alvin, Ascending Genealogy
McDonald, Sarah
3
2
County History (From the Yamhill County Reporter for March 4, 1892 and written for that newpaper
Cooper, Col. L.C.
3
2
Henderson, Jesse obitituay 27 Aug 1867
Yamhill Reporter
3
2
Bible Records: Unicume Family, copyright of Bible 1881 [photo copies of pages]
Fendall, Wilma Unicume
3
2
Half Century Meeting [10 June 1911, names: Merchant, Tucker, Logan, Buckingham, Landess]
Telephone Register
3
2
History of Hopewell Cemetery and Church [19 Nov 1915]
Telephone Register, McMinnville
3
2
McMinnville Daily Campaign (MDC) 3 April 1886 - 11 June 1886 [microfilm, snippets]
[births, marriages, deaths]
McMinnville Daily Campaign
3
2
Military List of Yamhill County, Oregon, 1867, L - Z
3
2
Official Returns: Tabulated Statement of the Official Count of Votes Polled in Yamhill County
June 2, 1899
3
2
Puckerville [Oregon Register, 25 Jan 1889 [snippet , name: Little]
Oregon Register
3
2
Smith, Philip Lee, obituary 3 Aug 1899
Telephone Register
3
2
Wooden Obit Scrapbook Index A - H
Myrtle Wooden Scrapbook
3
2
Yamhill County Pioneer Assn. 1892, Membership Roll
3
2
Yamhill County Reporter 4 Mar 1892 [snippets, names: Newbill, Kuykendall, Hussy, Saling, Stauffer]
3
2
Bible Records: Athey Family, copyright of Bible 1885
Roberts, Diana, Woodburn, OR,
possession
3
3
Carson, Alexander, Carlton, Oregon, Story Told About Indians, Kit Carson's Brother Alec
Rich, Nellie
3
3
Fairview Social Club [organized 1910 or 1912, history, names: Sully, Fruit, Reid, Fletcher,
Hamblin, Maynard, Altimus]
Tupper, Louise
3
3
Find Old Plow Near Champoeg, 1932, Relic Buried for Seventy Years Unearthed
[names: Tozier, Osborne, Weston, McLoughlin] [snippets: Ball, Kamm, Gray, Simpkins, Gay] unknown newspaper
3
3
Grand Ronde Indian Reservation Now History [part 3]
Myrtle Wooden Scrapbook
3
3
Morgan, Valerie Jean Numerical Pedigree Sheet
Morgan, Margaret Palmer
3
3
Mothershead Families originated in England
Pridemore, Shirl Anne
3
3
News Register Centennial Edition June 25, 1959 [names: Palmer, Greenhoot, Adams;
plus County timeline of events]
News Register
3
3
Poage Families originated from Ireland and Scotland
Pridemore, Shirl Anne
3
3
Republican State Ticket [no date, list of men and positions]
3
3
Telephone Register, March 27, 1952 [snippets, names: Riley, Jones, Willson, Burton, Hill, Nelson]
Telephone Register
3
3
Wooden Obit Scrapbook Index H - P
Myrtle Wooden Scrapbook
3
3
Yamhill County Marriages 1844 - 1856 [reconstruction after records burned in courthouse fire]
Stoller, Ruth
3
3
Yamhill County Sheriff Appointments [list 1849 - 1957 of sheriffs]
3
3
Anderson, Anna Little, Numerical Pedigree Chart
Anderson, Anna Little
3
4
Deaths Recorded in Newberg Graphic 1899 [names: Kirk, Lashier, Masson, Johnson, Heater, Bovard, Harrison, Miles, Cummings]
Newberg Graphic
3
4
McKinley Sr., Alexander "Alex" Early Yamhill and Polk County Pioneer
3
4
History of Newberg: Band History [in the Newberg Scribe, no date]
Everest, Granville
3
4
Index to Timber Trails Vol. 3 - 1982-1983 [surnames]
Yamhill County Genealogical Society
3
4
Montgomery, Catherine P. obituary, Dayton Tribune, December 23, 1921
Dayton Tribune
3
4
Oregon Farmers Order Engine to Move Crops [story of 1878 narrow gauge railroad]
Madden, Tom, The Oregonian, 1961
3
4
OregoNotes [bits of Oregon History that appeared in McMinnville paper during Centennial, 1959]
Thompson, Peter
3
4
Partridge, Joanne, Numerical Pedigree Chart
Watts, Joanne
3
4
Sheridan Sun, June 30, 1910 [snippets, names: Shepherd, McCaskey, Kaufman, Miller, McCoy]
Sheridan Sun
3
4
Telephone Register, March 27, 1952 [snippets, names: Tajala, Schulenberg, Jost, Rogers, Jones,
Bennette, Toliver, Barkley, Meier, Hart, Shafer, May, Davenport, Murray, Bennett, Kroll, Jernstedt]
Telephone Register
3
4
Wooden Obit Scrapbook Index P - Z
Myrtle Wooden Scrapbook
3
4
Yamhill County Marriages 1844-1856 [reconstruction after records burned in courthouse fire]
3
4
Bond, Elizabeth: Estate, Stafford County, Kansas , heirs in Yamhill County [names: Hutchens, Ruddick, Dorsey, Creson]
4
1
Ebenezer Chapel (Odell) Cemetery tombstone inscriptions
Nelson, James & Donna
4
1
Matheny, Daniel, obituary, Feb. 29, 1872
Pacific Christian Advocate
4
1
Buehler, Milton H., Necrology
4
1
Ramey, Golda, Necrology
4
1
Warmington, Julia Jean, Numerical pedigree chart
Jones, Julie Warmington
4
1
Yamhill County Marriages 1844-1856 [part 10, reconstruction]
4
1
Additional Burials in the Ebenezer (Odell) Cemetery (Plus information on persons buried there)
4
2
Thomas, Virginia Charles, Necrology
4
2
Bony, Melford Alanson Ascending Genealogy
Bony, Dorene Kilgore
4
2
Daily Reporter, McMinnville, Oregon 15 September 1886 [snippets, names: Putnam, Buntin,
Glover, Mulkey, Fryer, Seese, Miller, Warner, Nichols, Gilkey, Ramsey, Heater, Smith, Abernathy,
Edwards, Roof, Sparks, Reid, Bingham, Bishop, Olds, Kelty, Ungerman, Gates, Hubbard, Shepherd, Fletcher, Wright, Davis, Wood, Hewitt, Barclay, Pambrum]
Daily Reporter
4
2
First Presbyterian Church, Minutes of Session Jan. 17, 1916 [list of members]
4
2
Gelfins Family Bible Records [photo copy of pages]
4
2
Hopewell Cemetery Update [names: Atkins, Athey, Cave, Cooper, Crowder, Crosier, Matheny, Griffin, Hoovers]
Roberts, Walt & Diana
4
2
Oregon 1880 Mortality Schedule Yamhill County (East Chehalem)
4
2
Whiteson (as described in Polk's Yamhill County Directory 1912-13)
4
2
Yamhill County Marriages 1844-1856 (continued) [reconstructed]
4
2
Yamhill County Marriages, Book B [Dec 1856-Apr 1857]
4
2
1893 in Retrospect January 1894
Yamhill County Reporter
4
3
Goucher, George Wilson obituary 1893
4
3
History of Sheridan [October 16, 1903]
Yamhill Reporter
4
3
Index of Yamhill County Obituaries [Z - P, as of 1983]
4
3
Isham Family [James Jefferson Isham]
Lander, Marvin
4
3
Membership List 29 August 1983
Yamhill County Genealogical Society
4
2
Oregon 1880 Mortality Schedule Polk County (Bethel Precinct)
4
3
Yamhill County Marriages, Book B [April 1857-August 1859]
4
3
Yamhill-Polk-Tillamook County Lines
4
3
Index to Timber Trails Vol. 4, No. 3, January 1984 [surnames]
4
3
Gelfius Family, Additional Information
Murphy, Jane F.
4
4
Daily Reporter, McMinnville, Oregon, 19 October 1886 [snippets, names: Cave, Boyce]
Daily Reporter
4
4
Daily Reporter, McMinnville, Oregon, January 1887 [snippets, names: Cooper, Monroe, Newby, Lemon, Watron, Ladd, Graves, King, Olds, Summers, Southworth, Jolly]
Daily Reporter
4
4
Tillamook County 1880 Mortality Schedule (Hoquarton Precinct)
4
4
Index to Timber Trails Vol. 4 - 1983-1984 [surnames]
Yamhill County Genealogical Society
4
4
McDaniel Family Bible Records (primarily Polk County)
4
4
Oregon 1880 Mortality Schedule, Clackamas County (Clackamas)
4
4
Westfall, Bill, Numerical Ancestor Table
Westfall, Virginia
4
4
Yamhill County Marriages, Book B [September 1859-May 1862]
4
4
Carl Family Bible Record [transcript]
Morgan, Kirby R., submitter
5
1
Carl, Wilson obituary January 27, 1897
Pacific Christian Advocate
5
1
Clackamas County 1880 Mortality Schedule (Oregon City Precinct)
5
1
Handle Your Photos With Care or Those Membories Could Fade!
Jacobson, Sebby Wilson
5
1
Index to Yamhill County Obituaries [F-A, as of 1983]
5
1
Lafayette Courier, November 29, 1872 [names: Payne & court case]
Lafayette Courier
5
1
Millegan, Lloyd Edwin Numerical Pedigree Chart
Millegan, Eudora
5
1
Newhouse, Phyllis, Necrology
5
1
Recollections of a Former Yamhiller [Joel Palmer, Willamette Valley Railroad, River]
Yamhill Reporter
5
1
Shuck-Hamblin History from 1892, part 1
Jackson, Lila
5
1
Tillamook County 1880 Mortality Schedule (Hoquarton Precinct)
5
1
Yamhill County Marriages, Book B [May 1862-August 1863]
5
1
Bellevue Store Ledger in Scrapbook of Clarissa Lehmann [1859, 1865, names]
Zajac, Nelda Stringer, owner, 1984
5
2
Membership roster 1984-85
5
2
Cline Family Bible Records, Bible copyright 1875
5
2
Harris, Raymond Leslie, numerical pedigree chart
Harris, Alice N.
5
2
Lehman Scrapbook Index to Ledger Names
Watts, Joanne, compiler
5
2
Shuck-Hamblin History from 1892, part 2
Jackson, Lila
5
2
Stag Hollow School District #17 [history, 1909-1910 list of pupils, teacher, directors]
5
2
Yamhill County Marriages Oct 1864-Jun 1866
Yamhill County Genealogical Society
5
2
Bates, Hosea H. obituary 1891[River Falls, Wisconsin]
Blair, Miriam Bates, submitter
5
3
McIntire Family Bible Records, Bible copyright 1851
5
3
Boyd Cemetery, Lincoln County, Montana
Tupper, Louise
5
3
Davis, Clara Jane obituary February 17, 1949
Telephone Register
5
3
History of Yamhill County Courthouse Records & List of Records
Stoller, Ruth
5
3
Shumway, Beryle Donahoo Numerical Pedigree Chart
Shumway, Beryle Donahoo
5
3
Skinner-Davis Scrapbook, Index [Yamhill County Historical Society possessed in 1985]
Davis, Clare Skinner
5
3
Hoffman, Linda Numerical Pedigree Chart
Taylor, Linda Hoffman
5
3
Yamhill County Marriages Jun 1866-Jun1868
Yamhill County Genealogical Society
5
3
Ebenezer Cemetery Additions [Odell Cemetery]
5
4
Campaigning in the Philippines [rosters of mostly Oregon men]
Faust, Karl, original author
5
4
Everest Family History [article 1954]
Newberg Graphic
5
4
Hamilton, Edwin Earle, Killed in the Philippines, obituary [1900]
5
4
Index to Timber Trails Vol. 5 - 1984-1985 [surnames]
Yamhill County Genealogical Society
5
4
Robison, John H. and His Marriage Records [justice of the peace, records 1858-1872]
5
4
McMinnville Secret of Benevolent Societies in 1890
Kilgore, Ione
5
4
Yamhill County Marriages Jul 1868-Dec 1869
Yamhill County Genealogical Society
5
4
Yamhill County Probate Records [Extracts Numbers 1-40]
Yamhill County Genealogical Society
5
4
Hamblin, Lila Pearl Ancestor Chart
Jackson, Lila Pearl H. submitter
6
1
Sheridan [Photo copied pages from Polk's Yamhill County Directory 1912-13]
Polk's Yamhill County Directory
6
1
Springbrook [Photo copied pages from Polk's Yamhill County Directory 1912-13]
Polk's Yamhill County Directory
6
1
Wapato [Photo copied pages from Polk's Yamhill County Directory 1912-13]
Polk's Yamhill County Directory
6
1
West Butteville [Photo copied pages from Polk's Yamhill County Directory 1912-13]
Polk's Yamhill County Directory
6
1
West Chehalem [Photo copied pages from Polk's Yamhill County Directory 1912-13]
Polk's Yamhill County Directory
6
1
West Dayton [Photo copied pages from Polk's Yamhill County Directory 1912-13]
Polk's Yamhill County Directory
6
1
Wheatland [Photo copied pages from Polk's Yamhill County Directory 1912-13]
Polk's Yamhill County Directory
6
1
Whiteson [Photo copied pages from Polk's Yamhill County Directory 1912-13]
Polk's Yamhill County Directory
6
1
Yamhill County Marriages Jan 1870-Dec 1870
Yamhill County Genealogical Society
6
1
Yamhill County Probate Records [Extracts Numbers 40-84]
Yamhill County Genealogical Society
6
1
Member List 1985-86
Yamhill County Genealogical Society
6
1
Bellevue [Photo copied pages from Polk's Yamhill County Directory 1912-13]
Polk's Yamhill County Directory
6
2
Bellwood [Photo copied pages from Polk's Yamhill County Directory 1912-13]
Polk's Yamhill County Directory
6
2
Garrison Family Bible Records, Bible bought 1818
Rea, Marijane owned in 1985
6
2
Brandt [Photo copied pages from Polk's Yamhill County Directory 1912-13]
Polk's Yamhill County Directory
6
2
Bridwells [Photo copied pages from Polk's Yamhill County Directory 1912-13]
Polk's Yamhill County Directory
6
2
Broadmead [Photo copied pages from Polk's Yamhill County Directory 1912-13]
Polk's Yamhill County Directory
6
2
Ebenezer Chapel Cemetery addition (Odell)
6
2
Garrison, A.H. obituary 1911
6
2
Grand Ronde [Photo copied pages from Polk's Yamhill County Directory 1912-13]
Polk's Yamhill County Directory
6
2
Harrison [Photo copied pages from Polk's Yamhill County Directory 1912-13]
Polk's Yamhill County Directory
6
2
Hopewell [Photo copied pages from Polk's Yamhill County Directory 1912-13]
Polk's Yamhill County Directory
6
2
Amity [Photo copied pages from Polk's Yamhill County Directory 1912-13]
Polk's Yamhill County Directory
6
2
Membership List Additions 1985-86
Yamhill County Genealogical Society
6
2
Yamhill County Marriages Jan 1871-Oct 1872
Yamhill County Genealogical Society
6
2
Yamhill County Probate Records [Extracts Numbers 85-127]
Yamhill County Genealogical Society
6
2
Henderson Family Bible Records, circa 1850
6
3
Drill and Dover Family Reunion, 1917
6
3
Willamina [Photo copied pages from Polk's Yamhill County Directory 1912-13]
Polk's Yamhill County Directory
6
3
Yamhill [Photo copied pages from Polk's Yamhill County Directory 1912-13]
Polk's Yamhill County Directory
6
3
Yamhill County Marriages Oct 1872-Jan 1874
Yamhill County Genealogical Society
6
3
Yamhill County Probate Records [Extracts Numbers 128-177]
Yamhill County Genealogical Society
6
3
Partridge Family Bible Records, Bible copyright 1867
Watts, Joanne owned in 1986
6
4
Happy Valley, Chase, Oregon [school pupils 1902-1903, postoffice, location]
Frazier, Delpha, Dallas, OR 1986
6
4
Higgins, Mary Ann McKern obituary, 1927
Newberg Graphic
6
4
Hutton, Grace Autograph Album [Hopewell area, dates 1899-1902]
6
4
Newberg [Photo copied pages from Polk's Yamhill County Directory 1912-13]
Polk's Yamhill County Directory
6
4
Simkins, Hiram & Mary Ann [listing of vitals and children, 1826-1938]
6
4
Yamhill County Marriages Feb 1874-Mar 1875
Yamhill County Genealogical Society
6
4
Yamhill County Probate Records [Extracts Numbers 178-225]
Yamhill County Genealogical Society
6
4
Index to Timber Trails Vol. 6, 1985-1986 [surnames]
Yamhill County Genealogical Society
6
4
Dayton Herald, excerpts, 1894, 1902,
7
1
Everest, Cathy Dianne Numerical Ancestor Chart
Burton, Cathy
7
1
McMinnville Custer GAR Post #9, Membership Roster for 1899, 1909
Marsh, Robert
7
1
Newberg [Photo copied pages from Polk's Yamhill County Directory 1912-13]
Polk's Yamhill County Directory
7
1
Stow Letter [24 January 1984 from Donald Stow to Linda Taylor, family history]
Taylor, Linda
7
1
Wood, Laurie E. Numerical Ancestor Chart
Brandt, Laurie E.W.
7
1
Yamhill County Marriages Mar 1875-Jul 1876
Yamhill County Genealogical Society
7
1
Yamhill County Probate Records [Extracts Numbers 226-269]
Yamhill County Genealogical Society
7
1
Check List of sources for Family Research
Jackson, Lila
7
2
Rogers, John P., Letters from the California Gold Fields of 1848-9 [begin]
Originals at Oregon Historical Soc.
7
2
Newberg [Photo copied pages from Polk's Yamhill County Directory 1912-13]
Polk's Yamhill County Directory
7
2
Union and Confederate Veterans of the Civil War found in the 1910 Yamhill County Census
7
2
Yamhill County Marriages Aug 1876-Oct 1877
Yamhill County Genealogical Society
7
2
Yamhill County, Oregon, Probate Records [Extracts Numbers 270-321]
Yamhill County Genealogical Society
7
2
Rogers, John P., Letters from the California Gold Fields of 1848-9 [conclusion]
Originals at Oregon Historical Soc.
7
3
Membership Roster 1986-87
Yamhill County Genealogical Society
7
2
Newberg [Photo copied pages from Polk's Yamhill County Directory 1912-13]
Polk's Yamhill County Directory
7
3
Yamhill County Marriages Oct 1877-Jun 1878
Yamhill County Genealogical Society
7
3
Yamhill County, Oregon, Probate Records [Extracts Numbers 322-363]
Yamhill County Genealogical Society
7
3
Amity [Photo copied pages from Polk's Yamhill County Directory 1912-13] [begin]
Polk's Yamhill County Directory
7
4
Be Accurate
Craig, Marilyn J.
7
4
Alderman-Bird Family Bible, Bible copyright 1850
Sears, Mary, owner in 1987
7
4
In Search of Beals
Lowe, Blanche Beal
7
4
Index to Timber Trails Vol. 7, 1986-1987 [surnames]
Yamhill County Genealogical Society
7
4
Minnie Hembree's Autograph Album
7
4
Newberg [Photo copied pages from Polk's Yamhill County Directory 1912-13]
Polk's Yamhill County Directory
7
4
Rex [Photo copied pages from Polk's Yamhill County Directory 1912-13]
Polk's Yamhill County Directory
7
4
Whiteson [part 1]
Walling, Anna R.
7
4
Yamhill County Marriages Oct 1878-Sep 1879
Yamhill County Genealogical Society
7
4
Yamhill County, Oregon, Probate Records [Extracts Numbers 364-405]
Yamhill County Genealogical Society
7
4
Amity [Photo copied pages from Polk's Yamhill County Directory 1912-13]
Polk's Yamhill County Directory
8
1
Godsey, Alice Nancy numerical pedigree chart
Harris, Alice Godsey
8
1
In Search of Parrys
Lowe, Blanche Beal
8
1
Whiteson [part 2]
Walling, Anna R.
8
1
Yamhill County 100 Years Ago, The Daily Reporter, McMinnville, Jan. 1, 1887 [towns' statistics]
Anderson, Anna, extractor
8
1
Yamhill County Marriages Sep 1879-Apr 1880
Yamhill County Genealogical Society
8
1
Yamhill County, Oregon, Probate Records [Extracts Numbers 406-449]
Yamhill County Genealogical Society
8
1
Bellevue [Photo copied pages from Polk's Yamhill County Directory 1912-13]
Polk's Yamhill County Directory
8
2
Bellwood [Photo copied pages from Polk's Yamhill County Directory 1912-13]
Polk's Yamhill County Directory
8
2
Rogers Family Bible Record, gift for Christmas 1877
8
2
Brandt [Photo copied pages from Polk's Yamhill County Directory 1912-13]
Polk's Yamhill County Directory
8
2
Brasier, Leah H. obituary
8
2
Bridwells [Photo copied pages from Polk's Yamhill County Directory 1912-13]
Polk's Yamhill County Directory
8
2
Broadmead [Photo copied pages from Polk's Yamhill County Directory 1912-13]
Polk's Yamhill County Directory
8
2
Carlton [Photo copied pages from Polk's Yamhill County Directory 1912-13]
Polk's Yamhill County Directory
8
2
Hutchens, Leah May pedigree chart
Brasier, Leah M. Hutchens
8
2
In Search of Lowes
Lowe, Blanche Beal
8
2
Membership List 1987-88
Yamhill County Genealogical Society
8
2
Whiteson [part 3]
Walling, Anna R.
8
2
Yamhill County Marriages Apr 1880-Apr 1881
Yamhill County Genealogical Society
8
2
In Search of Erwins
Lowe, Blanche Beal
8
3
Hembree Jr., Joel J., Earliest Oregon Trail Fatality Had Close Ties to Yamhill County
Craig, Marilyn J., compiler
8
3
Putman, Rebecca, obituary 1895
8
3
Vachon/Vashaw [family records]
Walker, Rebecca
8
3
Whiteson [part 4]
Walling, Anna R.
8
3
Yamhill County Marriages May 1881-May 1882
Yamhill County Genealogical Society
8
3
Yamhill County, Oregon, Probate Records [Extracts Numbers 450-497]
Yamhill County Genealogical Society
8
3
Carlton [Photo copied pages from Polk's Yamhill County Directory 1912-13]
Polk's Yamhill County Directory
8
4
Charleston[Photo copied pages from Polk's Yamhill County Directory 1912-13]
Polk's Yamhill County Directory
8
4
Chase [Photo copied pages from Polk's Yamhill County Directory 1912-13]
Polk's Yamhill County Directory
8
4
Cove Orchard [Photo copied pages from Polk's Yamhill County Directory 1912-13]
Polk's Yamhill County Directory
8
4
Crawfords [Photo copied pages from Polk's Yamhill County Directory 1912-13]
Polk's Yamhill County Directory
8
4
Dayton [Photo copied pages from Polk's Yamhill County Directory 1912-13]
Polk's Yamhill County Directory
8
4
Dewey [Photo copied pages from Polk's Yamhill County Directory 1912-13]
Polk's Yamhill County Directory
8
4
Dundee [Photo copied pages from Polk's Yamhill County Directory 1912-13]
Polk's Yamhill County Directory
8
4
Dundee Junction [Photo copied pages from Polk's Yamhill County Directory 1912-13]
Polk's Yamhill County Directory
8
4
Fairdale [Photo copied pages from Polk's Yamhill County Directory 1912-13]
Polk's Yamhill County Directory
8
4
Fulquartz Landing [Photo copied pages from Polk's Yamhill County Directory 1912-13]
Polk's Yamhill County Directory
8
4
Gopher [Photo copied pages from Polk's Yamhill County Directory 1912-13]
Polk's Yamhill County Directory
8
4
Hop Pickers, Whiteson 1895 [names on pay list]
8
4
Index to Timber Trails Vol. 8, 1987-1988 [surnames]
Yamhill County Genealogical Society
8
4
Allen, Sarah E. 1829-1891
Schnaiter, Mrs. Thomas P., submitter
8
4
Yamhill County Marriages May 1882-Feb 1883
Yamhill County Genealogical Society
8
4
Yamhill County, Oregon, Probate Records [Extracts Numbers 498-542]
Yamhill County Genealogical Society
8
4
Bellevue, One of First Postoffices in County was Established 87 Years Ago [1942 article]
9
1
Perry Family Bible Records, Peery, Gaines [photo copy of original] [dates 1822-1919]
Bowman, Marjorie Perry owned 1988
9
1
Callin, Myra Logan pedigree chart
McDowell, Myra L. submitter
9
1
Lafayette [end of][Photo copied pages from Polk's Yamhill County Directory 1912-13]
Polk's Yamhill County Directory
9
1
Masonry in Pacific Coast District Had Early Start [Masonic Lodges]
Walla Walla Daily Bulletin, 1930
9
1
McMinnville [Photo copied pages from Polk's Yamhill County Directory 1912-13]
Polk's Yamhill County Directory
9
1
Shelton-Miller Family Group Sheet
Shelton, Jean, submitter
9
1
Yamhill County Marriages Feb 1883-Feb 1884
Yamhill County Genealogical Society
9
1
Yamhill County, Oregon, Probate Records [Extracts Numbers 544-593]
Yamhill County Genealogical Society
9
1
Drill, Dorothy E. obituary 1988
9
2
Eastman, Jessie M. obituary 1988
9
2
McMinnville [Photo copied pages from Polk's Yamhill County Directory 1912-13]
Polk's Yamhill County Directory
9
2
Parrish, William Albert Family
Huffman, Doris A. submitter
9
2
Yamhill County Marriages Mar 1884-Jan 1885
Yamhill County Genealogical Society
9
2
Yamhill County, Oregon, Probate Records [Extracts Numbers 594-633]
Yamhill County Genealogical Society
9
2
China Wedding [Gregg & Conner celebration, approximately 1901 in Polk county]
9
3
Cocker, David, estate #486, [document from probate file, he was murdered in 1886]
Oregon State Archives
9
3
Hess, James Thomas [1938 interview]
Newberg Public Library folder
9
3
Jones, William James & Elizabeth Shuck Family
Huffman, Doris A. submitter
9
3
Lowe, Blanche Beal obituary 1988
9
3
McMinnville [Photo copied pages from Polk's Yamhill County Directory 1912-13]
Polk's Yamhill County Directory
9
3
Sheridan Deaths 1887-1900 from The Sheridan Weekly Sun, October 26, 1900
9
3
Yamhill County Marriages Jan 1885-Dec 1885
Yamhill County Genealogical Society
9
3
Yamhill County, Oregon, Probate Records [Extracts Numbers 634-638]
Yamhill County Genealogical Society
9
3
Brutscher, Sebastian and Mary Everest Family, vitals
Gumm, Kenneth
9
4
Carlin, Martha Ellen Rogers obituary 1904
9
4
Dodds, Richard Vernon pedigree chart
Dodds, Richard Vernon
9
4
Garrison, Plinny C. [extract from Oregon Donation Land Claim]
Index to Timber Trails Vol. 9, 1988-1989 [surnames]
Yamhill County Genealogical Society
9
4
Letter to Alexander Williams, Iowa, from Martha Garrison, Oregon Territory, 1850
9
4
McMinnville [Photo copied pages from Polk's Yamhill County Directory 1912-13]
Polk's Yamhill County Directory
9
4
Yamhill County Marriages Jul 1885-Jul 1886
Yamhill County Genealogical Society
9
4
Yamhill County, Oregon, Probate Records [Extracts Numbers 639-692]
Yamhill County Genealogical Society
9
4
Knox, General John, Descendants, War of 1812
10
1
McMinnville [Photo copied pages from Polk's Yamhill County directory 1912-13]
Polk's Yamhill County Directory
10
1
Rowland, Mary A. 1905 Funeral Card
10
1
Sanders Family Records
10
1
Adams, Mary Sophia, 1902 Funeral Card
10
1
Leabo, Oradon James, 1906 Funeral Card
10
1
Wright, Mrs. Elsia, 1911 Funeral Card
10
1
Fouts, Mrs. Roy, 1915 Funeral Card
10
1
Stout, Jessie Alma, 1904 Funeral Card
10
1
Yamhill County Marriages Aug 1886-Aug 1887
Yamhill County Genealogical Society
10
1
Yamhill County, Oregon, Probate Records [Extracts Numbers 693-739]
Yamhill County Genealogical Society
10
1
Lee Family Biography [submitted by by Marilyn Hankins Kromrey]
Carter, Melchia Jane Lee
10
2
How to Write a Query
10
2
McMinnville [Photo copied pages from Polk's Yamhill County directory 1912-13]
Polk's Yamhill County Directory
10
2
Methodist Brotherhood Class of 1920 [copy of original list]
10
2
Ten Commandments for Genealogists
from Pierre Genealogical Society Bulletin
10
2
Member List as of September 1, 1989
10
2
Yamhill County Marriages Sep 1887-Jun 1888
Yamhill County Genealogical Society
10
2
Yamhill County, Oregon, Probate Records [Extracts Numbers 740-782]
Yamhill County Genealogical Society
10
2
Membership List Additions 1989
10
3
Alphabetical List of Taxpayers, 1912 Polk's Yamhill County Directory
Polk's Yamhill County Directory
10
3
History of Union Baptist Church [South of Yamhill County in Polk County] [Harmony Church]
Bell, Neppie Lou
10
3
List of Members of Mutual Telephone Company in Yamhill County (as of February 1903)
Newberg Graphic
10
3
McMinnville [Photo copied pages from Polk's Yamhill County directory 1912-13]
Polk's Yamhill County Directory
10
3
Yamhill County Marriages Jun 1888-Dec 1888
Yamhill County Genealogical Society
10
3
Alphabetical List of Taxpayers, 1912 Polk's Yamhill County Directory [cont.]
Polk's Yamhill County Directory
10
4
Friends Cemetery Association Records, Newberg, Yamhill County, Oregon [begin]
Valin, Paul and Van
10
4
Yamhill County Marriages Dec 1888-Oct 1889
Yamhill County Genealogical Society
10
4
Yamhill County, Oregon, Probate Records [Extracts Numbers 783-825]
Yamhill County Genealogical Society
10
4
Index to Timber Trails Vol. 10, 1989-1990 [surnames]
Yamhill County Genealogical Society
10
4
Alphabetical List of Taxpayers, 1912 Polk's Yamhill County Directory [cont.]
Polk's Yamhill County Directory
11
1
Faulconer Brothers, The [written 1951]
Teats, Jennie Waugaman
11
1
Index to Timber Trails, Vol. 11, No. 1 [surnames]
Yamhill County Genealogical Society
11
1
Friends Cemetery Association Records, Newberg, Yamhill County, Oregon [cont.]
11
1
Vestal-Wood Bible and Family Records Bible copyright 1874
11
1
Yamhill County Marriages Oct 1889-Jul 1890
Yamhill County Genealogical Society
11
1
Yamhill County, Oregon, Probate Records [Extracts Numbers 826-845]
Yamhill County Genealogical Society
11
1
Alphabetical List of Taxpayers, 1912 Polk's Yamhill County Directory [cont.]
Polk's Yamhill County Directory
11
2
Identifying Photographs [types]
Blair County Gen. Soc. PA
11
2
Olds Family in Oregon [begin]
Paul & Van Valin
11
2
Records of Friends Cemetery Association, Newberg, Yamhill County, Oregon [cont.]
11
2
Membership List as of August 1990
Yamhill County Genealogical Society
11
2
Yamhill County Marriages Jul 1890-Dec 1890
Yamhill County Genealogical Society
11
2
Alphabetical List of Taxpayers, 1912 Polk's Yamhill County Directory [cont.]
Polk's Yamhill County Directory
11
3
Gridlock for Guys Gumshoeing Genealogy
Wade, Walter H.
11
3
Index to Timber Trails, Vol. 11, No. 1-3 1990-1991 [surnames]
Yamhill County Genealogical Society
11
3
Olds Family in Oregon [cont]
11
3
Friends Cemetery Association Records, Newberg, Yamhill County, Oregon [cont.]
11
3
Yamhill County Marriages Jan 1901-Jul 1901
Yamhill County Genealogical Society
11
3
Yamhill County, Oregon, Probate Records [Extracts Numbers 847-887]
Yamhill County Genealogical Society
11
3
Alphabetical List of Taxpayers, 1912 Polk's Yamhill County Directory, cont.
Polk's Yamhill County Directory
11
4
Index to Timber Trails, Vol. 11, No. 1-4 1990-1991 [surnames]
Yamhill County Genealogical Society
11
4
Olds Family in Oregon [cont]
11
4
Jones, William T. "One Oregon Family"
Jones, Grace
11
4
Friends Cemetery Association Records, Newberg, Yamhill County, Oregon [cont.]
11
4
Yamhill County Marriages Jan 1913-Mar 1913
Yamhill County Genealogical Society
11
4
Alphabetical List of Taxpayers, 1912 Polk's Yamhill County Directory [end]
Polk's Yamhill County Directory
12
1
Index to Timber Trails Vol. 12, No. 1 July 1991 [surnames]
Yamhill County Genealogical Society
12
1
Olds Family in Oregon [cont]
12
1
Friends Cemetery Association Records, Newberg, Yamhill County, Oregon [cont.]
12
1
Yamhill County lMarriages Jan 1913-Oct 1913
Yamhill County Genealogical Society
12
1
Yamhill County, Oregon, Probate Records [Extracts Numbers 888-926]
Yamhill County Genealogical Society
12
1
Index to Timber Trails Vol. 12, no. 1- 2, October 1991 [surnames]
Yamhill County Genealogical Society
12
2
Mitchell Family Bible Records, 1825-1936
Wallace, Frances L. submitter
12
2
Laughlin Ancestors
Laughlin, J.J.
12
2
Laughlin, J.J. obiturary 1991
12
2
Draper, Lyman C. Collection [description]
12
2
Olds Family in Oregon [cont]
12
2
Pleasant Hill Cemetery, Sheridan [Polk County]
12
2
Friends Cemetery Association Records, Newberg, Yamhill County, Oregon [cont.]
12
2
Membership List September 1991
Yamhill County Genealogical Society
12
2
Nelson, Irma Rean, Yamhill County Girl Makes 100
Dupuis, Mrs.
12
2
Yamhill County Marriages Sep 1913-Feb 1914
Yamhill County Genealogical Society
12
2
Yamhill County, Oregon, Probate Records [Extracts Numbers 927-962]
Yamhill County Genealogical Society
12
2
Bylaws of the Yamhill County Genealogical Society
Yamhill County Genealogical Society
12
3
Goodrich, The Carmi Family
12
3
Index to Timber Trails Vol. 12, No. 1-3, Jan. 1992 [surnames]
Yamhill County Genealogical Society
12
3
Lines to My Grandaughter on Her Thirteenth Birth Day, June 6th 1883
Davidson, Mary Ann
12
3
Olds Family in Oregon [cont]
12
3
Friends Cemetery Association Records, Newberg, Yamhill County, Oregon [cont.]
12
3
Yamhill County Marriages Feb 1914-Sep 1914
Yamhill County Genealogical Society
12
3
Yamhill County, Oregon, Probate Records [Extracts Numbers 973-996]
Yamhill County Genealogical Society
12
3
140 Year Anniversary Reunion [descendants of Jeremiah and Elizabeth Kenoyer]
12
4
Index to Timber Trails, Vol. 12, No. 1-4, April 1992 [surnames]
Yamhill County Genealogical Society
12
4
Be a Joiner: Genealogical Societies are Valuable tools for Family History Buffs
Gormley, M. Vanderpool
12
4
Oregon Historical Cemeteries Association, Inc. [new organization]
Gentry, Jeanne
12
4
Olds Family in Oregon [cont]
12
4
Friends Cemetery Association Records, Newberg, Yamhill County, Oregon [cont.]
12
4
Some Byegone Yamhill County Post Offices
White, John W.
12
4
Yamhill County Marriages Sep 1914-Nov 1914
Yamhill County Genealogical Society
12
4
Yamhill County, Oregon, Probate Records [Extracts Numbers 997-1026]
Yamhill County Genealogical Society
12
4
Frances's Story [surname Embree]
McDaniel, Donna Jean
13
1
Index to Timber Trails, Vol. 13, No. 1, July 1992 [surnames]
Yamhill County Genealogical Society
13
1
Make Heirlooms Part of Your Family History [excerpt]
Earnest, Russell D.
13
1
Olds Family in Oregon [cont]
13
1
Friends Cemetery Association Records, Newberg, Yamhill County, Oregon [cont.]
13
1
School agreement between Cecelia Spencer and District 3, Yamhill County, Oregon
13
1
Smith, Sophia Cook obituary and history, family group sheet
Stovall, Mike
13
1
Yamhill County Marriages Nov 1914-Jun 1915
Yamhill County Genealogical Society
13
1
Smith, Andrew D. Family Bible Records [Bible printed 1850]
13
2
Index to Timber Trails, Vol. 13, No. 1-2, October 1992 [surnames]
Yamhill County Genealogical Society
13
2
Friends Cemetery Association, Newberg Records, Yamhill County, Oregon [cont.]
13
2
Member list 1992-93
Yamhill County Genealogical Society
13
2
St. Patricks Catholic Cemetery [in Muddy Valley, includes list of burials]
13
2
Smith: Story of Andrew Darling Smith and His Family, Pioneer of 1842 [part 1]
13
2
Yamhill County Marriages Jun 1915-Sep 1915
Yamhill County Genealogical Society
13
2
Johnson-Minter: Family records of Josiah Johnson & Sarah Jane Minter
Chavez, Barbara, submitter
13
3
Index to Timber Trails, Vol. 13, No. 1-3, Jan 1993 [surnames]
Yamhill County Genealogical Society
13
3
Friends Cemetery Association Records, Newberg, Yamhill County, Oregon [cont.]
13
3
Smith: Story of Andrew Darling Smith and His Family, Pioneer of 1842 [part 2]
13
3
Traveling the Oregon Trail in 1865 [1866 letter from William Davidson]
Meyer, Frances, submitter
13
3
Yamhill County Marriages Sep 1915-Dec 1915
Yamhill County Genealogical Society
13
3
Hopkins, Henry, Crossed Plains with Oxen 69 Years Ago
Paul, Mrs. F.F
13
4
Early Ships to American shores--1630 Voyage
Filer, Charlotte
13
4
Index to Timber Trails, Vol. 13, No. 1-4, April 1993 [surnames]
Yamhill County Genealogical Society
13
4
Kenoyer Clan Celebration 1993 [family history]
13
4
Migration of 1843 [Oregon Journal September 1921
Lockley, Fred
13
4
Hopkins: Oregon Bound: Over the Oregon Trail in 1866
Hopkins, Henry
13
4
Friends Cemetery Association Records, Newberg, Yamhill County, Oregon [cont.]
13
4
Smith, Polly obituary 1888
Smith: Story of Andrew Darling Smith and His Family, Pioneer of 1842 [part 3, final]
Smith, Gertrude
13
4
Yamhill County Marriages Dec 1915-Jun 1916
Yamhill County Genealogical Society
13
4
Shelton, Zebedee and Family, Pioneers of 1846
Shelton, Jean, submitter
13
4
Bristow Family Records 1809-1929
Winters, Marie
14
1
Hopkins, Family Group Sheets
Hopkins, Jeanette
14
1
Stout, Jonathan Descendents Gather for Centennial Fete [August 1952][Oregon Trail Account]
News Reporter, McMinnville, OR
14
1
Hopkins, Henry, Newberg Loses Only GAR Vet obituary April 6, 1944
Newberg Graphic
14
1
Friends Cemetery Association Records, Newberg, Yamhill County, Oregon [cont.]
14
1
Yamhill County Marriages Jun 1916-Oct 1916
Yamhill County Genealogical Society
14
1
Watson-Hollister Family Bible Records [Bible copyright 1901]
Yamhill County Historical Society, possession
14
2
Galloway, Charles Family
The Oregonian, July 8, 1900
14
2
Index to Timber Trails, Vol. 14, no. 2, October 1993
Yamhill County Genealogical Society
14
2
Membership List October 1993
Yamhill County Genealogical Society
14
2
Friends Cemetery Association Records, Newberg, Yamhill County, Oregon [end]
14
2
Wells, The Samuel Duncan Story
Will, Ella Wells
14
2
Yamhill County Marriages Oct 1916-Feb 1917 [surnames]
Yamhill County Genealogical Society
14
2
Zumwalt Family Line
Fowler, Beverly Ann Zumwalt
14
2
Fernwood Cemetery, Newberg, Oregon (Sometimes called the Everest Cemetery)[list of burials]
Paul & Van Valin, transcribers
14
3
Index to Timber Trails, Vol. 14, no. 3, January 1994 [surnames]
Yamhill County Genealogical Society
14
3
Fairchiles: Life of James & Catherine Fairchiles & Family
Fairchiles, Lena, April 3, 1926
14
3
Yamhill County Death Records Jan 1907-Apr 1907
Yamhill County Genealogical Society
14
3
Yamhill County Marriages Feb 1917-Jun 1917
Yamhill County Genealogical Society
14
3
Handley: Charles Handley Family and Their Early Days in Yamhill County [not complete, see Vol. 16, no. 4 to Vol. 17, no.3]
Webb, Helen
14
4
Fernwood Cemetery, Update of burials
Fernwood Cemetery Board
14
4
Johnson-Turner: H.V.V. Johnson and the James Turner Family [with pedegree charts]
14
4
Index to Timber Trails, Vol. 14, no. 4, April 1994
Yamhill County Genealogical Society
14
4
Yamhill County Death Records Apr 1907-Oct 1907
Yamhill County Genealogical Society
14
4
Yamhill County Marriages Jun 1917-Oct 1917
Yamhill County Genealogical Society
14
4
Index to Timber Trails, Vol. 15, no. 1, July 1994
Yamhill County Genealogical Society
15
1
Stoller, Ruth, memories of [Ruth was longtime volunteer county historian] 1994
numerous contributors
15
1
Dolph, A History [town on Yamhill-Tillamook Counties border]
McKillip, Lloyd
15
1
Yamhill County Death Records Oct 1907-Jan 1908 [surnames]
Yamhill County Genealogical Society
15
1
In Memory of Ruth Stoller
Walker, Rebecca
15
2
Bylaws of the Yamhill County Genealogical Society
Yamhill County Genealogical Society
15
2
Index to Timber Trails, Vol. 15, no. 1-2, October 1994 [surnames]
Yamhill County Genealogical Society
15
2
Old Silverware Box, The
15
2
Stoller, Remembering Ruth
Morgan, Peg
15
2
Loops, The Tennessee [Loop/Lupp Family] [part 1]
Hanna, Judith E.
15
2
Membership List October 1994
Yamhill County Genealogical Society
15
2
View of the Great Pacific Ocean, A [1891 letter from Mrs. Richard Lofton]
Buehler, Beth
15
2
Yamhill County Death Records Feb 1908-May 1908
Yamhill County Genealogical Society
15
2
Cream Cake Topping & Filler for Chocolate Cake [recipe]
Millegan, Eudora
15
3
Fun Afternoon, A
Hanna, Judith E.
15
3
Grandmas Know Neat Things [story of Booze Banks]
Buehler, Beth
15
3
Index to Timber Trails, Vol. 15, no. 1-3, January 1995 [surnames]
Yamhill County Genealogical Society
15
3
Kraut Kuchen [recipe from Anna Koch]
Koch, Barbara
15
3
Not Indian But Almost [Van Kirk family story]
Buehler, Beth
15
3
Scotch Shortbread [recipe]
Passey, Dorothy
15
3
Suggestion to Actuate Your Search /or A Warning to Leave Well Enough Alone
Chan, Betty
15
3
Loops, The Tennesee [part 2]
Hanna, Judith E.
15
3
Venison Mincemeat [recipe from Van Kirk family]
Buehler, Beth
15
3
Parkers, Whatever Happened to the Newberg
Dixon, Margaret Parker
15
3
Yamhill County Death Records May 1908-Oct 1908
Yamhill County Genealogical Society
15
3
Address to Willamette River [poem]
Davidson, Mary Ann
15
4
Index to Timber Trails, Vol. 15, no. 4, April 1995 [surnames]
Yamhill County Genealogical Society
15
4
Joe Meek's Pumpkin Soup [recipe]
Meyer, Frances, Davidson
15
4
Ice Cream Mix for Hand Freezer [recipe]
DePenning, Coral VanKirk
15
4
Lena Dower (Thauer) Filer
Filer, Charlotte
15
4
Nannie's Gingerbread [recipe]
Van Kirk, Mary Ella Case
15
4
Loops, The Tennesee [part 3]
Hanna, Judith E., submitter
15
4
Slaughterback, McClain Families: Two Trails to Oregon
Buehler, Beth
15
4
Who's For Ice Cream [Soft ice cream machine history]
Buehler, Beth
15
4
Yamhill County Death Records Oct 1908-Feb 1909
Yamhill County Genealogical Society
15
4
Can You Help Solve the Mystery? [photos of nurses in front of McMinnville Hospital]
16
1
Copper Pennies [recipe]
Koch, Barbara
16
1
Dolly Varden Cake [recipe]
Carpenter, Marcelle
16
1
Flying Enthusiasts Try Local Airplane Sunday [1940, McMinnville Proposed Airport]
Allison, Dorothy, submitter
16
1
Heredity [quote]
Holmes, Oliver Wendell
16
1
Hinshaw's 150 Years: 1845-1995
Chulik, Lea-Ora
16
1
Index to Timber Trails, Vol. 16, no. 1, July 1995 [surnames]
Yamhill County Genealogical Society
16
1
Ranger Cookies [recipe]
Koch, Barbara
16
1
Loops, Tennessee : Ludwig Lupp 1733-1798 [part 4, final]
16
1
McBride: Trip to Oregon [1846] [part 1]
McBride, John Rogers
16
1
Yamhill County Death Records Feb 1909-May 1909
Yamhill County Genealogical Society
16
1
McClain: Crossing the Plains in '53 [written 1903]
McClain, Martha Ann
16
2
Happy Hollidays! [Belsnickle story]
Fischer, Jude
16
2
Index to Timber Trails, Vol. 16, no. 2, October 1995 [surnames]
Yamhill County Genealogical Society
16
2
Oregon Missionaries [Rev. F.N. Blanchet][Annals of St. Anne de Beaupre]
LaVoie, Ernest
16
2
Stults, Ruby Bernice Miller, obituary 1922
Albritton, Janice Stults, submitter
16
2
McBride: Trip to Oregon (Oregon Trail Stories) [1846] [part 2]
McBride, John Rogers
16
2
Yamhill County Death Records May 1909-Sep 1909
Yamhill County Genealogical Society
16
2
Membership for 1995-96
Yamhill County Genealogical Society
16
2
Ferrin-Davidson: An Autobiography and a Reminiscence [part 1]
Meyer, Frances
16
3
Applesauce Cake [recipe]
Dade, Mary Bates
16
3
Woodworth: Ed and Ethel Woodworth's First Summer at High Camp, 1917 [part 1]
Woodworth, Ethel
16
3
Index to Timber Trails, Vol. 16, no. 1-3, January 1996 [surnames]
Yamhill County Genealogical Society
16
3
No Bake Oatmeal Cookies [recipe]
Walker, Lillie L.
16
3
Persimmon Drop Cookies [recipe]
Watts, Joanne
16
3
McBride: Trip to Oregon (Oregon Trail Stories) [1846] [part 3, final]
McBride, John Rogers
16
3
Walnut Rock Cookies [recipes]
Walker, Lillie
16
3
Whipped Cream Krumkaka [recipe]
Watts, Jo
16
3
Yamhill County Death Records Sep 1909-Jan 1910
Yamhill County Genealogical Society
16
3
Ferrin-Davidson: An Autobiography and a Reminiscence [part 2]
Meyer, Frances
16
4
Handley: Charles Handley Family and Their Early Days in Yamhill County [Kate's Story] [part 1]
Webb, Helen
16
4
Woodworth: Ed and Ethel Woodworth's First Summer at High Camp, 1917 [part 2]
Woodworth, Ethel
16
4
Index to Timber Trails, Vol. 16, no.1- 4, April 1996 [surnames]
Yamhill County Genealogical Society
16
4
Yamhill County Death Records Jan 1910-May 1910
Yamhill County Genealogical Society
16
4
Ferrin-Davidson: An Autobiography and a Reminiscence [part 3]
Meyer, Frances
17
1
Handley: Charles Handley Family and Their Early Days in Yamhill County [Kate's Story] [part 2, final]
Webb, Helen
17
1
Chicken Coop School, 1896, McMinnville, Oregon [photo of school, identified people]
Albritton, Janice Stults, submitter
17
1
Woodworth: Ed and Ethel Woodworth's First Summer at High Camp, 1917 [part 3, final]
Woodworth, Ethel
17
1
Index to Timber Trails, Vol. 17, no. 1, July 1996 [surnames]
Yamhill County Genealogical Society
17
1
Preservation Tips
McDaniel, Donna Jean
17
1
Yamhill County Death Records May 1910-Sep 1910
Yamhill County Genealogical Society
17
1
Ferrin-Davidson: An Autobiography and a Reminiscence [part 4, final]
Meyer, Frances
17
2
Buehler, Adam: Circuit-Rider Minister [part 1]
Buehler, Beth
17
2
Gravestone Rubbing Instructions
Oregon Historical Cemeteries Assoc.
17
2
Index to Timber Trails, Vol. 17, no. 2, October 1996 [surnames]
Yamhill County Genealogical Society
17
2
Land System of the New England Colonial Colonies
Stoddard, David F.
17
2
Telephone Register Newspaper, McMinnville, Oregon, 1929, 1930 snippets [Huntley, Thomas, Robertson]
Telephone Register
17
2
Telephone Register Newspaper, McMinnville, Oregon, 1922,1951 snippets [Huffman, Poe, Hoereth, Long]
Telephone Register
17
2
Yamhill County Death Records Sep 1910-Jan 1911
Yamhill County Genealogical Society
17
2
Membership List 1996-97
Yamhill County Genealogical Society
17
2
Banana Bread [recipe]
Kusch, Corina
17
3
godsey Family Story: Christmas 1885 in Kentucky
Harris, Alice Godsey
17
3
Christmas Mincemeat Matremond [recipe]
Buehler, Beth
17
3
Buehler, Adam, Circuit-Rider Minister [part 2, final]
Buehler, Beth
17
3
Chocolate Mincemeat Squares [recipe]
Buehler, Beth
17
3
Filling & Topping for Devil's Food Cake [recipe]
Millegan, Eudora
17
3
Hershey's Chocolate Chip Blondies [recipe]
Kusch, Corina
17
3
Index to Timber Trails, Vol. 17, no. 3, January 1997 [surnames]
Yamhill County Genealogical Society
17
3
Peppernuts: Traditional Christmas Cookie [recipe]
Buehler, Beth
17
3
Sheridan Sun, 1929 snippets [Simmons, Brown, Merriweather, Allen, Bundy, Aaron, Short, Huntley, Martin]
Sheridan Sun
17
3
Yamhill County Death Records Jan 1911-Mar 1911
Yamhill County Genealogical Society
17
3
Bigelow Oregon Trail 1854
Bigelow, John C.
17
4
Nickerson: From an Old Scrap Book [pioneer family to Oregon]
Watts, Jo
17
4
Index to Timber Trails, Vol. 17, no. 1-4, April 1997 [surnames]
Yamhill County Genealogical Society
17
4
Indian Wives of the Champoeg Signers [part 1]
Buehler, Beth
17
4
Van Cleave Oregon Trail 1866 [includes two photos]
Bigelow, Lucille (Swaggart)
17
4
Yamhill County Death Records Mar 1911-Aug 1911
Yamhill County Genealogical Society
17
4
Buell, Hammond Oregon Trail 1846
Bigelow, Lucille (Swaggart)
18
1
Conlee, Barny & Shuck Oregon Trail 1848 & 1853
Bigelow, Lucille (Swaggart)
18
1
Harper, Higgins Oregon Trail 1853
Bigelow, Lucille (Swaggart)
18
1
Index to Timber Trails, Vol. 18, no. 1, July 1997 [surnames]
Yamhill County Genealogical Society
18
1
Some Dayton Chapters in the Oregon Story [part 1] [La Bonte, Palmer]
Dayton Reading Club
18
1
Swaggart, Harper Oregon Trail 1853
Bigelow, Lucille (Swaggart)
18
1
Indian Wives of the Champoeg Signers [part 2, final]
Buehler, Beth
18
1
Yamhill County Death Records Aug 1911-Dec 1911
Yamhill County Genealogical Society
18
1
Index to Timber Trails, Vol. 18, no. 2, October 1997 [surnames]
Yamhill County Genealogical Society
18
2
Adams, Loring K. "Portland Attorney Recalls Early Days in McMinnville" January 1, 1931
News Register
18
2
Parsons, Mary, Letter from Feb 4, 1925
Parson, Mary
18
2
Jones-Meader: One Oregon Pioneer [written 1947]
Jones, Grace
18
2
Some Dayton Chapters in the Oregon Story [part 2] [Palmer, Walker, Fletcher, Cook, Crawford, Robison, Christman, Goodrich, Holdredge, Dorsey, Alderman]
Dayton Reading Club
18
2
Yamhill County Death Records Dec 1911-Apr 1912
Yamhill County Genealogical Society
18
2
Membership for 1997-98
Yamhill County Genealogical Society
18
2
Baked Sweet Potatoes or Yams [recipe]
Turner, Phyllis
18
3
Bean Casserole [recipe]
Koch, Barbara
18
3
Childhood Memoies Varnished Bright After Fifty Years
McDaniel, Donna Jean
18
3
Christmas Mincemeat Squares [recipe]
Buehler, Beth
18
3
Edward's Family Trip to Oregon [interview with daughter Mabel Kuykendall, no names given]
Kuykendall, Mrs. Bob
18
3
Genealogy Resolutions
18
3
Finding Ancestors Through Voter Registration Cards
18
3
Index to Timber Trails, Vol. 18, no. 3, Jan 1998 [surnames]
Yamhill County Genealogical Society
18
3
Lefse [recipe]
Martin, Agnes; Wennerstrum, Mrs.
18
3
Some Dayton Chapters in the Oregon Story [part 3]
Dayton Reading Club
18
3
Stults, Barbara Bockes and daughters [photo]
18
3
Newlin: Then and Now and Between, Autobiography of Milton Newlin 1929 [part 1]
Nolan, Shirley Newlin, submitter
18
3
Tips for Creating a Good Query
Fairin, Christina
18
3
Yamhill County Death Records Apr 1912-Aug 1912
Yamhill County Genealogical Society
18
3
13 Ways to Ensure a Healthy Society [i.e. genealogical type]
18
4
Stults, Daniel G. and Sons, circa 1905 [photo]
Albritton, Janice Stults, submitter
18
4
Index to Timber Trails, Vol. 18, no. 4, April 1998 [surnames]
Yamhill County Genealogical Society
18
4
My Mother's Flower Garden [Mary Cooper Matheny]
Kirkwood, Charlotte Matheny
18
4
Newlin, Mary Jane obituary
18
4
Newlin, Milton obituary
18
4
Some Dayton Chapters in the Oregon Story [part 4]
Dayton Reading Club
18
4
Newlin: Then and Now and Between, autobiography of Milton Newlin 1929 [part 2]
Nolan, Shirley Newlin, submitter
18
4
Yamhill County Death Records Aug 1912-Dec 1912
Yamhill County Genealogical Society
18
4
Declarations of Independence Signers [general information on fates]
Meyer, Frances, submitter
19
1
Newlin, Descendants of John
Nolan, Shirley Newlin, submitter
19
1
Matheny-Hewitt: Henry and Elizabeth Matheny Hewitt, Members of the 1843 Wagon Train
Jones, Julie, submitter
19
1
Index to Timber Trails, Vol. 19, no. 1, July 1998 [surnames]
Yamhill County Genealogical Society
19
1
Some Dayton Chapters in the Oregon Story [part 5] [churches]
Dayton Reading Club
19
1
Yamhill County Death Records Dec 1912-Feb 1913
Yamhill County Genealogical Society
19
1
Membership for 1998-1999
Yamhill County Genealogical Society
19
1
Index to Timber Trails, Vol. 19, no. 2, October 1998 [surnames]
Yamhill County Genealogical Society
19
2
Mattoon: Oregon Trail Stories, Elizabeth Jane Mattoon
Millegan, Eudora
19
2
Ball: Oregon Trail Stories, Isaac and Abigail Ball
Gordon, Patricia L. Sears
19
2
Watt: Oregon Trail Stories, Joseph Watt
Rayborn, Patricia Watt
19
2
Some Dayton Chapters in the Oregon Story [part 6] [churches, schools, river traffic]
Dayton Reading Club
19
2
Steward, Nevada Peggy ancestor chart
Goodrich, Janet R.
19
2
Heritage [poem]
Watt, Patricia Joanne ancestor chart
Rayborn, Patricia Watt
19
2
Yamhill County Death Records Feb 1913-Jun 1913
Yamhill County Genealogical Society
19
2
By Myrtle [story of authors' mother, no names given]
Edmons, Jane Claire & Harley, Myrtle
19
3
Index to Timber Trails Vol. 19, no. 3, January 1999 [surnames]
Yamhill County Genealogical Society
19
3
Legal Name Changes by Act of North Carolina Assembly (1790-1808) [reprint from North Carolina Gen. Soc. Journal 1975-77]
McBride, B. Ransom, compiler
19
3
Yocum Yarn: One January Night [told in 1971]
Yocom, O.C., Harris, Alice Godsey, submitter
19
3
Gates, Lydia: Our Prairie Mother
Claire, Jane
19
3
Some Dayton Chapters in the Oregon Story [part 7, final] [river traffic, trains, high school]
Dayton Reading Club
19
3
Yamhill County Death Records Jun 1913-Oct 1913
Yamhill County Genealogical Society
19
3
Index to Timber Trails Vol. 19, no. 4, April 1999 [surnames]
Yamhill County Genealogical Society
19
4
Some Dayton Chapters in the Oregon Story [part 8] [after 100 years]
Dayton Reading Club
19
4
Yocum Yarn: Wilkins Place [told in 1971]
Yocom, O.C., Riley, Harris, Alice Godsey, submitter
19
4
Yamhill County Death Records Oct 1913-Feb 1914
Yamhill County Genealogical Society
19
4
Membership 1998-1999
Yamhill County Genealogical Society
19
4
Membership 1999-2000
Yamhill County Genealogical Society
20
1
Thornton, Jeptha: Discoveries Close to Home or Jeptha in Yamhill County
Turner, Ralph J.
20
1
Bewley, Esther L., Ancestors of
Turner, Ralph J.
20
1
Yamhill County Death Records Feb 1914-Jul 1914
Yamhill County Genealogical Society
20
1
Millegan, Lloyd Edwin Pedigree Chart
Millegan, Eudora
20
1
Chapman Family Record, William and Esther (Bewley)
Ballantyne, Robert L., submitter
20
1
Bylaws of the Yamhill County Genealogical Society
Yamhill County Genealogical Society
20
1
Cornmeal Pudding [recipe]
Harris, Alice Godsey, submitter
20
1
Newberg Citizens Asked to Identify Ancestors [reprint of March 6, 1980 article]
Newberg Graphic
20
1
Index to Timber Trails Vol. 20, no. 1, July 1999 [surnames]
Yamhill County Genealogical Society
20
1
Yamhill County Death Records Jul 1914-Jan 1915
Yamhill County Genealogical Society
20
2
Road Map for Finding Your Cherokee Ancestor [reprint from Tulsa Annals Vol. 33, No. 2]
20
2
Marr, Christina Lee Ahnentafel Chart
Farin, Christina Lee (Marr)
20
2
Hembree: Pioneer Stories: My Maiden Name is Mary Jane Hembree
Davies, Mary Jane, submitter
20
2
Blum, Nadine (Shaper), Ancestors of
Blum, Nadine
20
2
Pamphlet Described Oregon to Dayton Founding Father; General Joel Palmer Journeyed Overland Over 100 Years Ago [reprint of August 27, 1959 article]
News Register
20
2
Hurd, Gideon Ahnentafel Chart
Johnson, Glenn, G. submitter
20
2
Henderson, William Riley Ahnentafel Chart
Johnson, Glenn, G. submitter
20
2
Index to Timber Trails Vol. 20, no. 2, October 1999 [surnames]
Yamhill County Genealogical Society
20
2
Yamhill County Death Records Jan 1915-May 1915
Yamhill County Genealogical Society
20
3
Wilson, Phyllis Irene Ahnentafel Chart
Turner, Phyllis
20
3
Emigrant Family, The [1859 poem]
Davidson, Mary Ann Ferrin
20
3
Membership List January 2000
Yamhill County Genealogical Society
20
3
Marr, Uel Barton Ahnentafel Chart
Marr, Uel B. Jr.
20
3
Index to Timber Trails Vol. 20, no. 3, January 2000 [surnames]
Yamhill County Genealogical Society
20
3
Yamhill County Death Records May 1915-Oct 1915
Yamhill County Genealogical Society
20
4
Bylaws, Proposed amendments to
Yamhill County Genealogical Society
20
4
Pollard, Aaron and Margarette: Homesteaders of the Highlands [Sheridan, Oregon]
Turner, Phyllis
20
4
Women's Recipe for Happy Usefulness [mid 1960s]
Lowber, Iva
20
4
When I'm a Little Old Lady [poem]
20
4
1886 Dinner Etiquette by Mildred Skinner
Watts, Joanne, submitter
20
4
Cornwall, Rev. Came to Oregon on the Applegate Trail
Koch, Barbara
20
4
Index to Timber Trails Vol. 20, no. 4, April 2000 [surnames]
Yamhill County Genealogical Society
20
4
Bylaws
Yamhill County Genealogical Society
21
1
Index to Timber Trails, Vol. 21, No. 1, July 2000
Yamhill County Genealogical Society
21
1
Lady Family Land Sales/Lady Family Grantor Land Sales 1854 - 1903
Turner, Phyllis, abstractor & compiler
21
1
Wendt and Cady Genealogy
Pickett, Suewiya Mae (Gillette)
21
1
Yamhill County Death Records, Oct. 1915 - Jan. 1916
Killius & Jenkins
21
1
Charter Members 1980
Yamhill County Genealogical Society
21
1
Edwards: Descendants of Abel Edwards and Polly Potts, Volume II
Edwards, Johnny J.
21
2
Index to Timber Trails, Vol. 21, No. 2, October 2000 [surnames]
Yamhill County Genealogical Society
21
2
Buehler, Beth obituary 2000
21
2
Membership list 2000-01
Yamhill County Genealogical Society
21
2
Liven-good, Barbara Jean obituary 2000
21
2
Nelson, Irma Rean Pedigree Chart
Dupuis, Nancy Taylor, submitter
21
2
Yamhill County Death Records, Jan. 1916 - May 1916
Killius & Jenkins
21
2
Anderson, Nancy C. Pedigree Chart
Ringstad, Jackie
21
3
Bowman, Mary Jane 'Polly' Pedigree Chart
Ringstad, Jackie
21
3
Exploring Internet Myths
Smith, Juliana
21
3
Holman, James Saunders Pedigree Chart
Ringstad, Jackie
21
3
Hubbard, David Pedigree Chart
Ringstad, Jackie
21
3
Hughes Dr., Alexander Sterling Pedigee Chart
Ringstad, Jackie
21
3
In Praise of Whole-Family Genealogy
Hatcher, Patricia Law
21
3
Local Law Firm Named to Century Club in 1987
Haugeberg, Dave & Parr, Sandy
21
3
Olds, Rueben P. Pedigree Chart
Ringstad, Jackie
21
3
Riggs Sr., James Berry Pedigree Chart
Ringstad, Jackie
21
3
Riggs, Jacquelin Lee Pedigree Chart
Ringstad, Jackie
21
3
Rowell, Guy Eldredge Pedigree Chart
Ringstad, Jackie
21
3
Some of Dayton's Early Settlers and Cemeteries
Fairin, Christina, compiler
21
3
Thurman, Mary Little Pedigree Chart
Ringstad, Jackie
21
3
Wyatt, Sarah Hannah Pedigree Chart
Ringstad, Jackie
21
3
Yamhill County Death Records, May 1916 - Oct. 1916
Killius & Jenkins
21
3
Index to Timber Trails Vol. 21, No. 3, January 2001 [surnames]
Yamhill County Genealogical Society
21
3
Fuller, Descendants of Simeon and Naomi
Armstrong, Betty
21
4
Yamhill County Death Records, Oct. 1916 - Feb. 1917
Killius & Jenkins
21
4
You've Got Mail [mailing lists and forums]
Smith, Juliana
21
4
Index to Timber Trails Vol. 21, No. 4, April 2001 [surnames]
Yamhill County Genealogical Society
21
4
Unionvale Church, History of the
22
1
Maps of Yamhill County, 1843, 1849, 1853, 1859 (extent of) [in relation to Oregon]
22
1
Augusta Richter, Old Family Autograph Book of (dates 1880s)
Boyer, Alice, possession
22
1
How Many Ancestors Do You Have [diagram]
Morgan, Peg
21
4
Governers of Oregon
22
1
Index to Timber Trails Vol. 22, No. 1, July 2001 [surnames]
Yamhill County Genealogical Society
22
1
Yamhill County Death Records, Feb. 1917 - Jun. 1917
Killius & Jenkins
22
1
1849 Census for School Funds, Yamhill County [lists heads of households, # in age groups]
22
2
Williamson, John: 1860 Chahalem Valley Letter to Miss Ann Clemesha
Williamson, John
22
2
Hopewell, Picture of G.W.'s gas station [community]
22
2
Index to Timber Trails Vol. 22, No. 2, October 2001 [surnames]
Yamhill County Genealogical Society
22
2
Yamhill County Death Records, Jun. 1917 - Nov. 1917
Killius & Jenkins
22
2
Did You Know? (Historic tidbits of Yamhill County)
Fairin, Christina
22
3
Duncan Ancestry
Thompson, Ruth Oswalt, compiler
22
3
Oswalt Ancestry
Thompson, Ruth Oswalt, compiler
22
3
Pledge of Allegiance [history
22
3
Index to Timber Trails Vol. 22, No. 3, January 2002 [surnames]
Yamhill County Genealogical Society
22
3
Tustin, Ella A. Pedigree Chart
Irwin, Louise, submitter
22
3
Women and Property Rights in America [a history]
Fairin, Christina
22
3
Yamhill County Death Records, Nov. 1917 - Mar. 1918
Killius & Jenkins
22
3
Land Descriptions [Metes & Bounds, Township & Range]
Fairin, Christina
22
4
Did You Know? (Historic tidbits of Yamhill County)
Fairin, Christina
22
4
Unionvale Church, Yamhill County Oregon (100th Birthday Memory Letters)
22
4
Yamhill County Death Records, Mar. 1918 - Jul. 1918
Killius & Jenkins
22
4
Genealogist's Nightmare [supposed letter]
22
4
Index to Timber Trails Vol. 22, No. 4, April 2002 [surnames]
Yamhill County Genealogical Society
22
4
Edwards-Potts: Decendants of Able Edwards and Polly Potts-My Direct Line, excerpts parts I & II
Edwards, Johnny J.
23
1
Stories From Mt. Richmond [near Yamhill]
Koch, Barbara Staley
23
1
Index to Timber Trails Vol. 23, No. 1, July 2002 [surnames]
Yamhill County Genealogical Society
23
1
Yamhill County Death Records, Jul. 1918 - Aug. 1918
Killius & Jenkins
23
1
1900 Indian Population Census - Polk County, Oregon
23
2
Are You Melugion? (Part I)
Edwards, Johnny J.
23
2
Membership list October 2002
Yamhill County Genealogical Society
23
2
Volunteer [poem]
23
1
Edwards-Potts: Decendants of Able Edwards and Polly Potts-My Direct Line, excerpts part III & IV
Edwards, Johnny J.
23
2
Durham School, Yamhill CountyMore Memories
Loop, Howard
23
2
Traditional Irish Wedding Blessing [poem]
23
2
Definitions form Parish Maps of Ireland
Michell, Brian
23
2
Index to Timber Trails Vol. 23, No. 2, October 2002 [surnames]
Yamhill County Genealogical Society
23
2
Reality - Based Family History
Smith, Juliana
23
2
A Visual Chronology [using photographs]
Morgan, George G.
23
3
Decendants of Able Edwards and Polly Potts-My Direct Line, excerpts part 3
Edwards, Johnny J.
23
3
Turner, Phyllis Irene obituary 2002
23
3
Genealogy One-Liners
23
3
Honoring Our Ancestors: Another Family Bible Returned!
Smolenyak, Megan Smolenyak
23
3
Melungion - Part 2
Edwards, Johnny J.
23
3
Message From Rock Island County, Illinois (Korean War Killed)
23
3
The Census Taker [Poem]
23
3
Kilgore, Ione Marie obituary 2002
23
3
Tips for Working Smarter in Your Research
Morgan, George G.
23
3
Index to Timber Trails Vol. 23, No. 3, January 2003 [surnames]
Yamhill County Genealogical Society
23
3
Analyzing Before Life and After Death Experiences?
Neill, Michael John
23
4
Weakest Gene Questions [game]
Fairin, Christiana
23
4
Edwards-Potts: Decendants of Able Edwards and Polly Potts-My Direct Line, excerpts part 5
Edwards, Johnny J.
23
4
Edwards: From Colorado to Oregon - "My Family's Oregon Trail" Part 1
Edwards, Johnny J.
23
4
Marr: My Family's Journeys to Oregon - the 1930s and Forward
Fairin, Christina
23
4
Some Thoughts for the GFO Illinois Group [finding death records]
23
4
Newberg Memorial Park [some photos of markers]
23
4
Tax time in Pennsylvania [Revolutionary War period]
Hatcher, Patricia Law
23
4
Perils of Procrastination
Morgan, George G.
23
4
Smelser, William Elmer and Thereas (Merriman)
Wilde, Karen Sue
23
4
Index to Timber Trails Vol. 23, No. 4, April 2003 [surnames]
Yamhill County Genealogical Society
23
4
You Too Can Write Your Family Stories [samples]
Fairin, Christina
23
4
Copyright Law and Family History
Fairin, Christina
24
1
Edwards-Potts: Edwards Lore (from Decendants of Able Edwards and Polly Potts-My Direct Line) [part 6]
Edwards, Johnny J.
24
1
Edwards: From Colorado to Oregon - "My Family's Oregon Trail" Part 2 of 2
Edwards, Johnny J.
24
1
Knick - Knacks
Edwards, Johnny J.
24
1
Index to Timber Trails Vol. 24, No. 1, July 2003 [surnames]
Yamhill County Genealogical Society
24
1
Morgan, Kirby Ray Pedigree Chart
Morgan, Kirby Ray, submitter
24
1
Brief History of the First Congregational Church of Sheridan, Oregon
Sheridan Masonic Lodge
24
2
Anna C Hatch [death and lawsuit]
The Oregonian, July 8, 1900
24
2
Charles Galloway [death on battlefield]
The Oregonian, July 8, 1900
24
2
Cooper, Jacob Calvin
24
2
Nelson, Walter Hugh, Pedigree Chart, Pictures
Nelson, Sandra Lynne (Scott)
24
2
Research in Napa Valley, California
Craig, Marilyn J.
24
2
Index to Timber Trails Vol. 24, No. 2, October 2003 [surnames]
Yamhill County Genealogical Society
24
2
Sheridan Christian Church (picture and list of 354 members) [1913 list]
Sheridan Masonic Lodge
24
2
Yamhill County's Oldest Family Business Celebrates 100 Years of Service, Macy & Son Funeral Dir
Macy, W. T. & Walter
24
2
Disease Terminology and Control of Communicable Diseases [1952]
Dyer, Karen
24
3 & 4
Memorable Holiday and Other Stories [collection of members' stories]
YCGS members
24
3 & 4
Old Plot Map of Sheridan Masonic Cemetery [photo copy]
24
3 & 4
Sheridan Lodge No. 64 A.f. & A. M Charter [photo copy]
24
3 & 4
Sheridan Lodge No. 64 A.F. & A. M. Past Masters, 1958 Members
24
3 & 4
Mobley, vincent T. obituary 2004
24
3 & 4
The Meaning of Tombstone Carvings
Dyer, Karen
24
3 & 4
The Territorial Papers of the United States [overview]
Stemmons, John
24
3 & 4
Time Capsule Contents, Sheridan Lodge 64
Edwards, Johnny J.
24
3 & 4
Yamhill County Oregon Early Land Claims, index, Adams - Buffin
Edwards, Johnny J., submitter
24
3 & 4
Index to Timber Trails Vol. 24, No. 3&4, January & April 2004 [surnames]
Yamhill County Genealogical Society
24
3 & 4
Reid, Mack Scott Ahnetafel Chart
Reid, Carol Louise Holzman
25
1
House Histories: Reconstructin Your Ancestors' Daily Lives
Ryskamp, George
25
1
Hucksters: Glimpses into the Past
Florian, Judy
25
1
Lands, Grants, Deeds, and Similar Sources
Simmons, Thomas E.
25
1
Oregon History - The Civil War in Oregon
Oregon State Archives
25
1
Oregon History - the Great Depression
Oregon State Archives
25
1
Public Lands History [timeline]
Bureau of Land Management
25
1
To Find the Degrees, Count the "G"s [cousin relationships]
Naff, Phillip
25
1
Twenty-Five Places Where Your Family's Facts May Hide
Morgan, George G.
25
1
Understanding Land Patents
Bureau of Land Management
25
1
Index to Timber Trails Vol. 25, No. 1, July 2004 [surnames]
Yamhill County Genealogical Society
25
1
Staggs, Samuel F. - Duncan, Mariah
25
1
Yamhill County Oregon Early Land Claims, Index, Buffin - Cooper
Edwards, Johnny
25
1
Along Those Lines: " I Told You I Was Sick" [T.B. & Influenza]
Morgan, George G.
25
2
Along Those Lines: "Do I Detect a Dialect"
Morgan, George G.
25
2
Internet Message Boards
Edwards, Johnny J.
25
2
More Than Just a Bunch of Names [officials, occupations]
Hatcher, Patricia Law
25
2
Edmonds, Oren & Nancy: My Grandmother's Shoddy
Edwards, Johnny J.
25
2
Smith, John "Jack" Tree Farmer of the Year 2003
25
2
Yamhill County Oregon Early Land Claims, Index, Cooper - Hill
25
2
Index to Timber Trails Vol. 25, No. 2, October 2004 [surnames]
Yamhill County Genealogical Society
25
2
Some Wills Are Works of Fiction: But sometimes those are quite amusing…
25
3
Another Story From the Illinois Interest Group, "Terrible Affair in Tazewell County"
Decatur Republican 1869
25
3
Migration Rations 1838
Myers, Jenny
25
3
Syntactician Laid to Rest (headstone, Mount Sinai, Los Angeles) (Helen Lois Schults nee Jacobs)
25
3
Time is Up! (what to do with your research)
Neill, Michael John
25
3
Where Can I Find That Record They Told Me About?
Warren, Paula Stuart
25
3
Crabby Old Woman [poem]
25
3
Yamhill County Newspapers on Microfilm (available from the University of Oregon)
Edwards, Johnny J.
25
3
Yamhill County Oregon Early Land Claims, Hines - Johnson
Edwards, Johnny, submitter
25
3
Yamhill County: Penitentiary Inmate Register, 1854 - 1932
Oregon State Archives
25
3
Index to Timber Trails Vol. 25, No. 3, January 2005 [surnames]
Yamhill County Genealogical Society
25
3
Stockton, W. W.: Old Soldier Answers Last Call (newspaper item )
Sheridan Sun
25
4
Tomb of the Unknown soldier, Q & A
25
3
Sims, W. O.: Portland Attracts Sheridan Family (newspaper item )
Sheridan Sun
25
4
Research Guidance, Historical Background for Beginners: Search Strategy
Edwards, Johnny
25
4
The Lafayette Church Ghost
Edwards, Johnny J.
25
4
Axtell, Juanita obituary 2005
25
4
Yamhill County Early Land Claims, Index, Jones - McBride
Edwards, Johnny
25
4
Yamhill County Mariage Index, 1913 A -C
Lowery, Karen, compiler
25
4
Index to Timber Trails Vol. 25, No. 4, April 2005 [surnames]
Yamhill County Genealogical Society
25
4
Ballston Old School House, Polk County Oregon [includes pictures]
Edwards, Johnny J.
26
1
Chronological History of Oregon-1543 to 1811
Oregon Blue Book
26
1
In Honor of the Lewis and Clark Expedition-Corps of Discovey 1803-1806
Craig, Marilyn J.
26
1
Pages From the Past, YCGS 1980 Membership Roster [Timber Trails]
Yamhill County Genealogical Society
26
1
Research Guidance, Historical Background for Beginners: Search Strategy cont.
Edwards, Johnny
26
1
Yamhill County Early Land Claims, index, McBride to Moore
26
1
Yamhill County Mariage Index, 1913 D-J
Lowery, Karen, compiler
26
1
Index to Timber Trails Vol. 26, No. 1, July 2005 [surnames]
Yamhill County Genealogical Society
26
1
Torrence, Oscar Martin: A Civil War Diary [part 1]
Lowery, Karen Rae Staggs, submitter
26
2
Chronological History of Oregon-1543-1813
Oregon Blue Book
26
2
Interview Techniques for Genealogical Researchers
Oberst, Gail
26
2
Lafayette Masonic Lodge ledger page 1936
Sheridan -Dayton #64 Masonic Lodge
26
2
Pages From the Past, YCGS 1980 Membership Roster, Fendall-Sitton reunion [Timber Trails]
Timber Trails Vol. 1 No. 1
26
2
Research Guidance, Historical Background for Beginners: Search Strategy cont.
Edwards, Johnny
26
2
South Yamhill Baptist Church [monument]
Edwards, Johnny J.
26
2
Dayton Grade School, Troop Committee Membership registered 1958
26
2
Untangling the Family Tree (cousins)
26
2
Yamhill County Early Land Claims, index, Moore to Patton
Edwards, Johnny, submitter
26
2
Yamhill County Marriage Index, 1913 K-N
Lowery, Karen, compiler
26
2
Index to Timber Trails Vol. 26, No. 2, October 2005 [surnames]
Yamhill County Genealogical Society
26
2
Torrence, Oscar Martin: A Civil War Diary [part 2]
Lowery, Karen Rae Staggs, submitter
26
3
Chronological History of Oregon-1814 to 1833
Oregon Blue Book
26
3
Dayton High School Graduation, 1914 [address by Neita Lewis]
26
3
First Names and Their Origins
Edwards, Johnny J.
26
3
Lafayette Masonic Lodge ledger page 1937
Sheridan-Dayton #64 Masonic Lodge
26
3
McMinnville Entrance Sign [photo]
Compton-Spears, Tami
26
3
Missing Federal Censuses 1790
26
3
Pages From the Past, Yamhill County boundry change petition [names], Malissa Wilson shot panther
Timber Trails Vol. 1 No. 1
26
3
Research Guidance, Historical Background for Beginners: Search Strategy cont.
Edwards, Johnny
26
3
Dayton Grade School, Troop Committee Membership, registered 1958, cont.
26
3
What Day was the Federal Census Taken? [chart]
26
3
Yamhill County Early Land Claims, index, Patton to Robson
Edwards, Johnny, submitter
26
3
Yamhill County Marriage Index, 1913 P-Y
Lowery, Karen, compiler
26
3
Yamhill County Marriages, January-February 1914
Lowery, Karen, compiler
26
3
Index to Timber Trails Vol. 26, No. 3, January 2006 [surnames]
Yamhill County Genealogical Society
26
3
Torrence, Oscar Martin: A Civil War Diary [part 3]
Lowery, Karen Rae Staggs, submitter
26
4
Census, Census - Where Art Thou? [missing federal census schedules 1800, 1810, 1820]
26
4
Get Organized: Organizing Digital Genealogy Files
Powell, Kimberly
26
4
Lafayette Masonic Lodge ledger page 1937 [cont.]
Sheridan-Dayton #64 Masonic Lodge
26
4
Smith, Andrew: Mystery Solved
Reid, Carol
26
4
Yamhill County Death Records, August - October 1918
Killius & Jenkins
26
4
Yamhill County Early Land Claims, index, Rogers to Smith
Edwards, Johnny, submitter
26
4
Yamhill County Marriages, March - June 1914
Lowery, Karen, compiler
26
4
Index to Timber Trails Vol. 26, No. 1-4, April 2006 [surnames]
Yamhill County Genealogical Society
26
3
A Child's Point of View [of genealogy]
27
1
torrence, Oscar Martin: A Civil War Diary [part 4, final]
Lowery, Karen, compiler
27
1
Ballston Cemetery Readable Headstones, July 2, 2005 [part 1]
Yoder, Gayle, compiler
27
1
Chronological History of Oregon, 1847 to 1853
Oregon Blue Book
27
1
Early Doctors of Yamhill County 1844-1880
Providence Hospital, Newberg, OR
27
1
Kreitz, William A.: Gettysburg Veteran Buried in Dayton
Fletcher, Randy
27
1
Lafayette Masonic Lodge ledger page, 1938
Sheridan-Dayton #64 Masonic Lodge
27
1
Oregon Resources on the Shelf, YCGS Holdings [start]
27
1
Pages From the Past, Yamhill County 1847 Tax List, p. 1
Timber Trails Vol. 1 No. 1
27
1
Yamhill County Early Land Claims, index, Smith to Waite
27
1
Yamhill County Death Records Oct 1918-Dec 1918
Yamhill County Genealogical Society
27
1
Yamhill County Marriages, July - October 1914
Lowery, Karen, compiler
27
1
Index to Timber Trails Vol. 27, No. 1, July 2006 [surnames]
Yamhill County Genealogical Society
27
1
Index to Timber Trails Vol. 27, No. 1, July 2006 [surnames, scanned pages]
Yamhill County Genealogical Society
27
1
Ballston Cemetery Readable Headstones, July 2, 2005 [part 2]
Yoder, Gayle, compiler
27
2
Cemetery Transcription Record [form]
27
2
Chronological History of Oregon, 1854 to 1866
27
2
Holiday Traditions [ideas for creating]
27
2
Lafayette Masonic Lodge ledger page, 1939
Sheridan-Dayton #64 Masonic Lodge
27
2
Oregon Resources on the Shelf, YCGS Holdings, cont.
27
2
Pages From the Past, Yamhill County 1847 Tax List
Timber Trails Vol. 1 No. 1
27
2
Some Civil War Upright Style Headstones
Morgan, Kirby Ray
27
2
Tombstone Meanings, Old Tombstone Carvings
27
2
Tracing Your Ancestry Through DNA
Powell, Kimberly
27
2
Yamhill County Death Records, January - February 1919
Killius & Jenkins
27
2
Yamhill County Early Land Claims, index, Walker to Wyatt
Edwards, Johnny, submitter
27
2
Yamhill County Marriages, November 1914 - March 1915
Lowery, Karen, compiler
27
2
Index to Timber Trails Vol. 27, No. 2, October 2006 [surnames]
Yamhill County Genealogical Society
27
2
Index to Timber Trails Vol. 27, No. 2, October 2006 [surnames, scanned pages]
Yamhill County Genealogical Society
27
2
Ballston Cemetery, Readable Headstones, July 2, 2005 [part 3]
Yoder, Gayle, compiler
27
3
Burnett-Roger Family [part 1]
Neeley, R. Thomas
27
3
Chronological History of Oregon, 1867 - 1900
Oregon Blue Book
27
3
Lafayette Masonic Lodge ledger page 1940
Sheridan-Dayton #64 Masonic Lodge
27
3
My Grandfather's Day Book! B.F. Keist
McClenny, Bobbie Keist
27
3
Naturalization Records for Yamhill County Oregon, index, Abbl to Arnett
27
3
Oregon or the Grave, The Journal of the Peoria Party from Illinois to Oregon in 1839 [part 1]
Fletcher, Randol B.
27
3
Oregon Resources on the Shelf, YCGS Holdings, cont.
27
3
Pages From the Past, Yamhill County Tax List, 1847, p. 2 [Timber Trails]
27
3
Ship Manifest Research
Edwards, Johnny J., submitter
27
3
Beatutudes of a Family Genealogist [poem]
Mauk, Wilma
27
3
Yamhill County Marriages, April - June 1915
27
3
Index to Timber Trails Vol. 27, No. 3, January 2007 [surnames]
Yamhill County Genealogical Society
27
3
Index to Timber Trails Vol. 27, No. 3, January 2007 [surnames, scanned pages]
Yamhill County Genealogical Society
27
3
Ballston Cemetery, Readable Headstones, July 2, 2005 [part 4]
Yoder, Gayle, compiler
27
4
Chronological History of Oregon, 1902 - 1918
Oregon Blue Book
27
4
Curiosity or ????? [deaths of Thomas Patrick Kirby and Hobert Trent]
Killus, Ruth
27
4
Millegan, Eudora W. obituary 2007
27
4
Interviewing Your Older Family Members
Edwards, Johnny J.
27
4
Lafayette Masonic Lodge ledger page, 1941
Sheridan-Dayton #64 Masonic Lodge
27
4
Naturalization Records for Yamhill County Oregon, index, Aulay to Baum
Oregon State Archives
27
4
Oregon or the Grave, The Journal of the Peoria Party from Illinois to Oregon in 1839 [part 2]
Fletcher, Randol B.
27
4
Oregon Resources on the Shelf, YCGS Holdings, cont.
27
4
Pages From the Past, Early History of Grand Island [Timber Trails]
Stoller, Ruth
27
4
Scanning Your Photographs - Which Format to Use?
Edwards, Johnny J.
27
4
The Brunett-Roger Family [part 2, final]
Neeley, R. Thomas
27
4
Yamhill County Marriages, July - September 1915
Lowery, Karen, compiler
27
4
Index to Timber Trails Vol. 27, No. 4, April 2007 [surnames]
Yamhill County Genealogical Society
27
4
Index to Timber Trails Vol. 27, No. 4, April 2007 [surnames, scanned pages]
Yamhill County Genealogical Society
27
4
Ballston Cemetery Readable Headstones, July 2, 2005 [part 5, final]
Yoder, Gayle, compiler
28
1
Changing Immigrant Names
Meyer, F.
28
1
Chronological History of Oregon 1919-1938
Oregon Blue Book
28
1
Do you have water damaged papers or books?
Edwards, Johnny J. writer & compiler
28
1
Expense Ledger for Joppa 151, Masonic Lodge in Lafayette, OR, December 1941
Sheridan-Dayton #64 Masonic Lodge
28
1
Four Family's, Page 1 of a series [Oregon Trail story]
Neely, Tom
28
1
Jo's School Desk - A Christmas Gift
Watts, Joanne
28
1
Naturalization Records for Yamhill County Oregon, Baum to Boyd
Oregon State Archives
28
1
Oregon or the Grave, The Journal of the Peoria Party for Illinois to Oregon in 1839 [Part 3]
Fletcher, Randol B.
28
1
Searching for a Wedding?
Meyer, Frankie
28
1
Yamhill County Death Records, Oct 1918 - Nov 1918
Killius & Jenkins
28
1
Yamhill County Marriages, October - December 1915
Lowery, Karen, compiler
28
1
Index to Timber Trails Vol. 28, No. 1, July 2007 [surnames]
Yamhill County Genealogical Society
28
1
Day Book [Keist family]
McClenny, Bobbie Keist
28
2
Deering, Evelyn Ancestral Chart
Bogart, Dorene
28
2
Expense Ledger for Joppa 151, Masonic Lodge in Lafayette, OR, January 1942
Sheridan-Dayton #64 Masonic Lodge
28
2
Four Family's, Page 2 of a series [Oregon Trail story]
Neely, Tom
28
2
Watt, Hannah Vernon: Another Pioneer Woman Gone [obituary] 1887
28
2
Smith, Mrs. Polly: Death of a Pioneer Woman [obituary] 1888
Oregon Register 1887
28
2
My Grandmother's Obituary [Mrs Jennie Keist]
McClenny, Bobbie
28
2
Naturalization Records for Yamhill County, Breyman to Carlin
Oregon State Archives
28
2
School Report West Chehalem, 1887 [pupil names]
28
2
Johnson, T.M. Death of a Pioneer [obituary] 1887
Oregon Register 1887
28
2
Yamhill County Death Records, Oct 1918 - Nov 1918
28
2
Index to Timber Trails Vol. 28, No. 2, October 2007 [surnames]
Yamhill County Genealogical Society
28
2
Dayton Part 1 of 2 [Joel Palmer photos]
Some Dayton Chapters in the Oregon Story
28
3
Expense Ledger for Joppa 151, Masonic Lodge in Lafayette, OR, December 1942
Sheridan-Dayton #64 Masonic Lodge
28
3
Four Family's, Page 3 of a series [Oregon Trail story]
Neely, Tom
28
3
Genealogical Codicil to my Last Will and Testament
28
3
Empty Box, A Family's History Lost [reprint from The Oregonian]
Bella, Rick
28
3
Grocery Stores of McMinnville, part 1 of 2
28
3
List of Principal Emigrant Trails [part 1]
Fremont County Nostalgia News
28
3
Naturalization Records for Yamhill County Oregon, Carlson to Cruis
Oregon State Archives
28
3
Mystery Photographs in our files
28
3
Records Were Burned… Were They?
Morgan, Sue Powell
28
3
Index to Timber Trails Vol. 28, No. 3, January 2008 [surnames]
Yamhill County Genealogical Society
28
3
Wallace, Mrs. Julia: Another Pioneer Called by Death, obituary 1936
Myrtle Wooden Scrapbook
28
4
VanHorn, David H.: Ore. Pioneer Dead [obituary] 1933
Myrtle Wooden Scrapbook
28
4
Genealogical Courtesy
Meyer, F.
28
4
Goodrich: Grandma Davidson Cone [Rachel Goodrich obituary]
Myrtle Wooden Scrapbook
28
4
Grocery Stores of McMinnville, part 2 of 2
28
4
List of Principal Emigrant Trails [part 2]
Fremont County Nostalgia News
28
4
Cruinican: Mathew and Bridget Cruinican, St. Joseph, Yamhill County 1916 [photo of house with people]
28
4
McDowell, Milan Cecil Pedigree Chart
McDowell, Kathleen
28
4
Newbill, Nancy A. obituary 1936
Myrtle Wooden Scrapbook
28
4
Naturalization Records for Yamhill County Oregon, Daher to Everest
Oregon State Archives
28
4
Pages From the Past, Annual Report of School District #7, Yamhill Co., Oregon Territory, Feb 1855
Timber Trails Vol. 1 No. 1
28
4
Yamhill County Towns and Villages, Dayton Part 2 of 2
Some Dayton Chapters in the Oregon Story
28
4
Index to Timber Trails Vol. 28, No. 4, April 2008 [surnames]
Yamhill County Genealogical Society
28
4
Odom, Carol obituary
29
1
Savage: James Savage, Native Son of Pioneers Passes Away At Advanced Age, 1945
29
1
List of Principal Emigrant Trails [part 3]
Fremont County Nostalgia News
29
1
Hayter,Mark: Pioneer Dallas Dentist, Dies, 193?
Myrtle Wooden Scrapbook
29
1
Nairn, Mary Elizabet obituary
Myrtle Wooden Scrapbook
29
1
Daugherty: Mrs. Josephine Daugherty, Train Captain's Daughter Dies, 1948
Myrtle Wooden Scrapbook
29
1
Savage, Mrs. Mary Christina obituary
Myrtle Wooden Scrapbook
29
1
Woods, Mrs. Mary E. obituary 1930
Myrtle Wooden Scrapbook
29
1
Simpson: Mrs. Nancy C. Simpson, Pioneer of '57 Dies at 92, 1935
Myrtle Wooden Scrapbook
29
1
Naturalization Records for Yamhill County, Ewau to Goebler
Oregon State Archives
29
1
Vanderhoof, OrMeda E. obituary 2008
29
1
Index to Timber Trails Vol. 28, No. 1-4, Vol. 29, No. 1 July 2008 [surnames]
Yamhill County Genealogical Society
29
1
Pages From the Past, Hopewell Cemetery List, Abbett to Antrim [Timber Trails]
29
1
Wheatland, Yamhill County Towns and Villages [photo]
29
1
Marter, Addie Van death notice
Myrtle Wooden Scrapbook
29
2
Odom, Carl obituary 1952
Myrtle Wooden Scrapbook
29
2
Odom, Carol death notice
Myrtle Wooden Scrapbook
29
2
Ottinger, Frances Virginia obituary 1954
Myrtle Wooden Scrapbook
29
2
Ida Mae Gill [death notice]
Myrtle Wooden Scrapbook
29
2
Smith: Janet Smith's Family [surnames mentioned: Evans, Lux, Bennett]
Bennett, Florence
29
2
List of Principal Emigrant Trails [part 4, final]
Fremont County Nostalgia News
29
2
Naturalization Records for Yamhill County, Goerke - Herdtle
Oregon State Archives
29
2
Pages From the Past, Hopewell Cemetery List, Antrim to Booth-Collinson
29
2
Whiteson, Yamhill County Towns and Villages [plat map]
29
2
Yamhill County Death Records, Sep 1918
Killius & Jenkins
29
2
Index to Timber Trails Vol. 29, No. 2, October 2008 [surnames]
Yamhill County Genealogical Society
29
2
21 Clues in an Obituary
Tree Shakers, Los Banos, CA
29
3
Basic Research Translations, English, French, German, Swedish, Polish
Krohse, Dee compiler
29
3
Name that Disease [quiz]
29
3
Spotlight on Louise, volunteer
Yamhill County Genealogical Society
29
3
First Christian Church, Sheridan, Oregon Built 1911 [photo]
29
3
Flour Sack Underwear [poem]
Kansas RTA Bulletin
29
3
Gravestones Found in Yamhill County and Nearby Oregon Cemeteries [Founder's Day Program, Dayton, 1990]
Coburn, Min
29
3
Kellems: Jesse R. Kellems, Minister of First Christian Church [photo]
29
4
VanWinkle: Rev H. A. VanWinkle, Minister of First Christian Church [photo]
29
4
United States Land Surveys [Townships, Sections]
1910 Union County Plat Book
29
3
Yamhill County Death Records, Sep 1918 - Oct 1918
Killius & Jenkins
29
3
Index to Timber Trails Vol. 29, No. 3, January 2009 [surnames]
Yamhill County Genealogical Society
29
3
First Christian Church, Sheridan, Oregon 1913 Membership List [photos]
29
4
Spotlight on Ruth, volunteer
Yamhill County Genealogical Society
29
4
Graves and Bewley [families]
Smith, Jan
29
4
Index to Timber Trails Vol. 29, No. 4, April 2009 [surnames]
Yamhill County Genealogical Society
29
4
20 Questions for Interviewing Relatives
familytreemagazine.com
30
1
How Well Do You Know Oregon? [quiz]
29
4
Cemetery Rubbings Presented to Society, Index
Coburn, Min
30
1
Divining for Lost Graves
unknown
30
1
Spotlight on Joanne
Yamhill County Genealogical Society
30
1
Payne, Caleb: Excerpt form the book: Christians On The Oregon Trail
Rushford, Jerry
30
1
Footnote to Pleasant Hill [Sheridan Methodist Church]
Smith, Jerry & Jan, permission
30
1
Foreward [Methodism in Sheridan]
Smith, Jerry & Jan, permission
30
1
Pages from the Past, Charles E. Fendall
30
1
Spencer: Report of the Circuit Rider John Spencer 1855-56
Smith, Jerry & Jan, pemission
30
1
Royal: Rev. Thomas Fletcher Royal [from Portland, Oregon, Its History and Builders]
Gaston, Joseph
30
1
Kinsman, Richard A. obituary and photo
30
1
Sheridan Academy
Smith, Jerry & Jan, permission
30
1
Tombstone Rubbings, Founder's Day Program, November , 1990, cont
Coburn, Min
30
1
Index to Timber Trails Vol. 30, No. 1, July 2009 [surnames]
Yamhill County Genealogical Society
30
1
Ancestry.com [solving brickwall problems]
Edward, Johnny
30
2
Moore, Arthur obituary, October 29, 1931
News Register
30
2
Spotlight on Karen
Yamhill County Genealogical Society
30
2
Faulconer Brothers, The
Mahi, Nancy
30
2
Genealogical Definitions [from Beaver Briefs, Vol. 22, No. 3]
Biship, John
30
2
Gravestone Rubbing Instructions
Oregon Historical Cemeteries Assoc.
30
2
Great Websites for Sheridan History
30
2
Sheridan Temporary Classroom 1935 [photo]
30
2
Martha and Patty: One Woman of Two? Dealing with Women's Nicknames
Dzindolet, Ann
30
2
Max Goldman - Merchant During 1913 Sheridan Fire
Courtin, Kim
30
2
Pages from the Past, The Fire That Swept Sheridan
30
2
Missouri Collection at Yamhill County Genealogical Society
Yamhill County Genealogical Society
30
2
Index to Timber Trails Vol. 30, No. 2, October 2009 [surnames]
Yamhill County Genealogical Society
30
2
Membership list October 2009
Yamhill County Genealogical Society
30
2
Census Taker [poem]
30
3
Courthouse Square Park [Dayton, Oregon]
Courtin, Kim
30
3
Quarterly Research Tips
Courtin, Kim
30
3
Tombstones: Photo enhancing
30
3
Yamhill County Veterans Association, Fourth Annual Meeting, August 30, 1912, [includes list]
Dayton Tribune
30
3
Index to Timber Trails Vol. 30, No. 3, January 2010 [surnames]
Yamhill County Genealogical Society
30
3
Pages From the Past - A Visit With Homer Cecil Parrett [reprint from Vol. 1, No. 4]
Kilgore, Ione
30
4
Index to Timber Trails Vol. 30, No. 1-4 [surnames]
Yamhill County Genealogical Society
30
4
Who Do You Think Your Are? Episodes, resources
Adams, Suzanne Russo
30
4
Thousands of Idaho Surnames Vol. 1-5 [book review]
Burden, Kathy
30
4
French Roots, My French Ancestry or The French Side of the Story
Barnett, Harriet
31
1
Top Six Free Websites for Tracing Immigrant Ancestors
31
1
Membership list June 2010
Yamhill County Genealogical Society
31
1
Chrisman, Walker: possible photograph
31
1
Dunne, Kay & Marge [photo]
Courtin, Kim
31
1
Index to Timber Trails Vol. 31, No. 1, July 2010 [surnames]
Yamhill County Genealogical Society
31
1
Upcoming Educational Events
[contact-form-7 404 "Not Found"]